I cook weeknight dinner recipes in my Instant Pot at least a few times a week.  I find that not only does pressure cooking enhance the flavor of many of my favorite meals, but the cooking time is often fast, thus liberating me from my kitchen, all while still making my family a homemade meal.  Because ai grew up near one of the best Greek restaurants in Chicagoland, Greek food holds a lot of nostalgia for me.  Here are my favorite easy Greek-inspired recipes that can easily be made at home on a busy weeknight.  
Ingredients to keep on hand for Greek-inspired Meals
Ingredients so you can whip up a quick homemade tzatziki sauce. Greek yogurt, dill, garlic, lemon juice, and cucumber
Greek Inspired Garnishes like red onions, feta cheese, pita bread, kalamata olives, tomatoes, roasted red pepper, and artichoke hearts
Greek Inspired Seasonings like paprika, red pepper flakes, cloves garlic, oregano, dill, lemon pepper, and Cavaliers Greek Seasoning
Olive Oil and Butter 
Greek Inspired Recipes to make in your Instant Pot/ Electric Pressure Cooker 
I love making these chicken gyros for get-togethers!  All you need is chicken breasts, Greek Yogurt, and a few other Greek seasonings!  This chicken is also tasty over a salad, a chicken bowl,  or rice.  
Your kitchen will smell amazing when you open your pressure cooker lid!  You will want to stir in all your favorite Greek toppings! This Orzo has just a 3 minute cooking time in the instant pot!  You can add a few more teaspoons of garlic or seasoning if you like.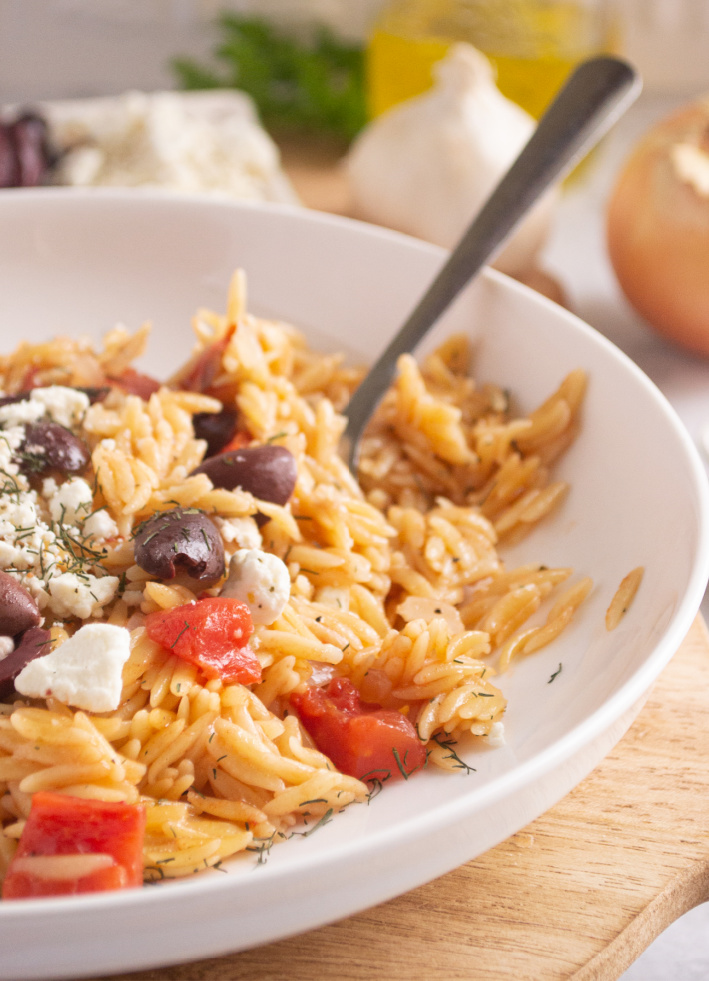 This Instant Pot Greek Chicken Chili is full of protein and is a fun Greek/ Chili fusion recipe!  All you need to do is place chicken in your Instant Pot with chicken broth, veggies, and Greek flavors!  Serve with Pita cracker and your favorite Greek garnishes! 
Did you know that hard-boiled eggs made in the Instant Pot turn out amazing?  All you need to do is 1 cup of water, and you cook them for five minutes and then wait five more minutes before releasing the pressure.  Making egg salad with tzatziki sauce not only tastes good, but it is fewer calories than making egg salad with mayonnaise.  You might want to add some black pepper on top of your egg salad too! 
I highly recommend topping this Greek soup with kalamata olives and lemon zest!  This soup is made with chicken thighs and is whole 30 approved!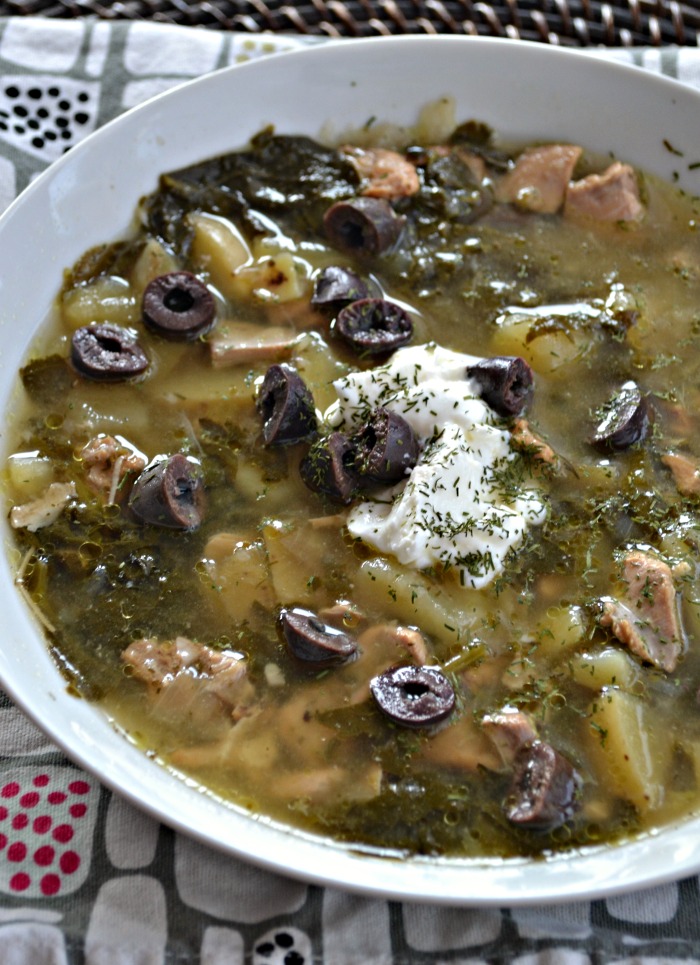 I love the saute feature on my Instant Pot, and I highly recommend you sear chicken the potatoes after you pressure cook them.  This is a delicious four-ingredient dinner!  Potatoes are the only carbohydrate!
These ground beef gyros are incredibly flavorful.  All you need is a pound of ground beef, a cup water, and a few tablespoons of various Greek seasonings!  These will melt in your mouth!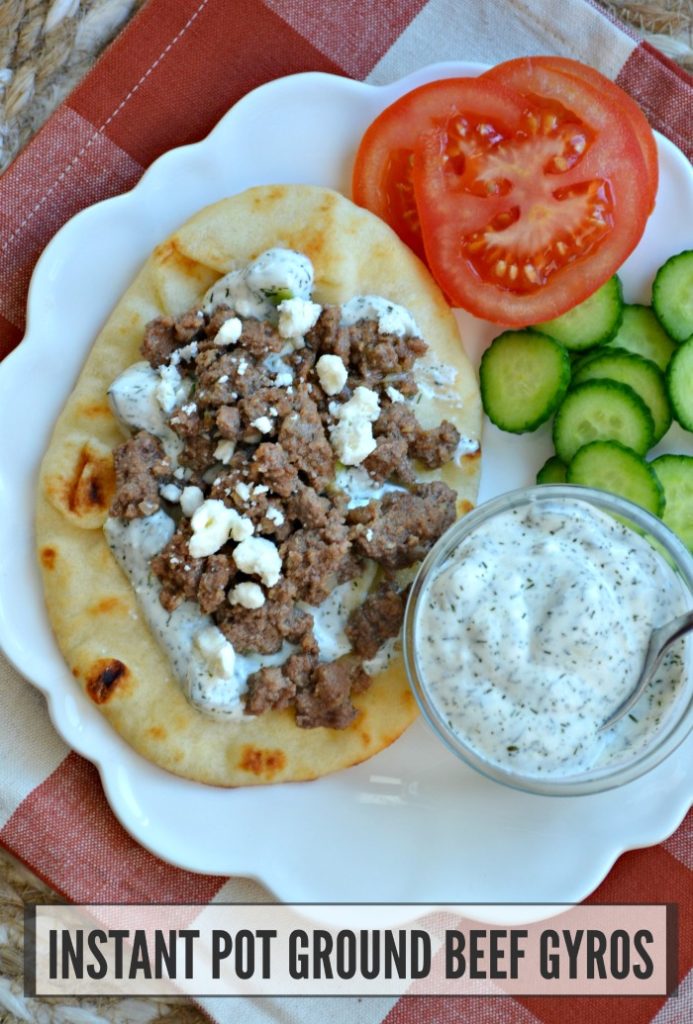 Pressure cooking tougher cuts of meat results in meat that is luscious and tender!  This Greek Inspired Beef Stew has a few tbsp of seasonings, potatoes, lemon juice, veggies, and broth.  This will last in the fridge for up to five days, or you can freeze it as well!
This Instant Pot Greek Lamb Roast is the perfect easy dish to prepare for the holidays!
Lamb is a classic Greek ingredient.  These lamb meatballs are super flavorful!  Just mix them up in a small bowl, add a cup chicken broth, secure lid, and pressure cook!
I highly recommend adding olives to your lamb stew!  This has loads of flavor!
These Instant Pot Grape leaves are stuffed with meat and have tons of flavors!
If you don't have an Instant Pot or an Electric Pressure cooker, most of these recipes can be adapted for the stove-top or your slow cooker.   If you. made and of these, I would LOVE to hear how they turned out!  Please comment below or tag me on social media.  You can find me on Facebook, Twitter, Pinterest, and Instagram.