This post may contain affiliate links 
I have realized this past month or so that I like my coffee, tea and soups and chilis to be a hotter temperature than the average person.   I love waking up early and enjoying that perfect cup of hot coffee before my kiddos wake up.  If I don't get that cup of coffee, I might warm up some up in the microwave throughout the day, but it will never achieve that perfect " first thing in the morning" hotness.  Probably because I am doing like ten other things.   It the same thing with soups and chilis.  I love chili straight out of the pot.   I love leftover chili too, but I find myself heating it in the microwave multiple times, and much more than my husband.
Maybe I realized this because I have been making heaps of chili this season.  Like some of you might wonder if I am going to turn this little ole website of mine into a chili blog.   No, I tend to go through spurts over here.  I happen to be on a chili kick.  ( and I have a few more chili recipes on the way.)
The secret ingredient in this chili, in my opinion is Cavender's Greek Seasoning 
It's no secret that I love Greek food.  When I was little, my parents used to take me to the Greek Isles, a restaurant in Chicagoland and it is so good!   While I don't feel like I have the experience or authority to replicate Moosaka, I do still like to play around with Greek spices in my kitchen, then one day this Greek White Chicken Chili was born!
I went back an forth on whether or not I would add the green chilis to this dish.  I was worried about how the chilis would complement all of the Greek spices.  I ended up liking my version that had the chilis better.  If you omit the green chilis, you are still going to have a great outcome; I just wouldn't call it chili, I would call it Greek soup with beans. 🙂
I made this dish in my pressure cooker, but this can easily be made in a slow cooker as well.  I will write the instructions for both below with the recipe.
Here is a little video I put together for you, showing how easy this is!
Can we talk about the cream cheese for a minute?  Although traditionally, I have always used milk or cream in my soups and chilis, I find that cream cheese works best in my pressure cooker.  Yes, cream cheese has a lot of calories.  But I try to use a smaller amount.  So instead of using an ounce block of cream cheese, I will use 4 ounces or even 3 ounces.   You can sub the cream cheese with milk or cream if you like.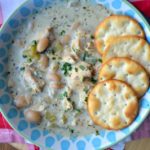 Greek Chicken Chili
Ingredients
1

tablespoon

extra virgin olive oil

1/2

cup

chopped celery

1/4

cup

chopped onion

2

cloves

minced garlic

1

4.5 ounce can

green chilis

2

15 ounce can

northern white beans

2

tablespoons

lemon juice

1

tablespoon

oregano

1

tablespoon

greek seasoning

1

tablespoon

dill weed

4

ounces

cream cheese

1

pound

chopped chicken breast pieces

2

cups

chicken broth
garnishes
pita chips

tzatziki sauce

feta cheese
Instructions
Pressure Cooker Directions
Set your pressure cooker to the saute setting. Add olive oil, celery, onions, and garlic. Saute until the celery and onions become translucent.

add the rest of the ingredients into your pressure cooker pot in no particular order.

Close pressure cooker lid and cook on high pressure for 15 minutes. Let NPR for 10 minutes.

Remove lid. Turn on saute setting for about 5-8minutes and stir to thicken the chili a bit. You might want to add a little cornstarch if you are having problems with it.
Slow Cooker Directions
Place the chicken at the bottom of your slow cooker. Add the rest of the ingredients.

Cook on low for 4-6 hours.
This chili was good.  I loved the mixture of the Greek flavors with the green chilis.  It was super flavorful and I can't wait to make this again!