Tzatziki is my favorite condiment.  I am always and forever looking for new ways to use it.  This Tzatziki egg salad, using homemade tzatziki sauce and adding fresh toppings, makes the perfect sandwich!
What is Tzatziki?
Tzatziki is a condiment used in Greece and other Mediterranean and middle eastern countries. It is a yogurt dip filled with chopped cucumber, salt, lemon juice, garlic, and herbs like dill.  It is a refreshing sauce, dip, or dressing.
What else can I use Tzatziki on?
Tzatziki is often served with gyros or pita bread. To learn more about Tzatziki sauce, check out:
If you are a frequent reader of this site, you know that my love for eggs and Tzatziki runs deep. It's crazy how long it took me to combine them!
If you purchase Tzatziki Sauce instead of making it homemade, look for it at Trader Joe's, Aldi, or Whole Foods.
Ingredients
Tzatziki Sauce Ingredients 
One cup of Greek Yogurt. You can substitute 1/2 the yogurt with sour cream or add a tablespoon of mayonnaise for extra creaminess. 
One tablespoon of olive oil
3/4 cup chopped English or grated cucumber ( small cucumber)
One teaspoon of garlic powder
Two tablespoons of dried dill or fresh dill
One teaspoon of lemon juice
One teaspoon salt
8 Hard Boiled Eggs
Building your Sandwich 
Pita Bread, Naan, or pita crackers
cherry tomatoes
lettuce
red onion
feta cheese
kalamata olives
fresh parsley
green onion
How to make tzatziki egg salad
Tzatziki sauce is super easy to whip up.  You can eat it immediately, but I suggest letting the flavors marinate in the fridge for an hour for even more flavor.
Instructions
1. Prepare your tzatziki sauce. Mix all the Tzatziki sauce in a bowl and let the dip marinate in the fridge for an hour before making egg salad.
2. Prepare hard-boiled eggs.  Peel eggs and chop them.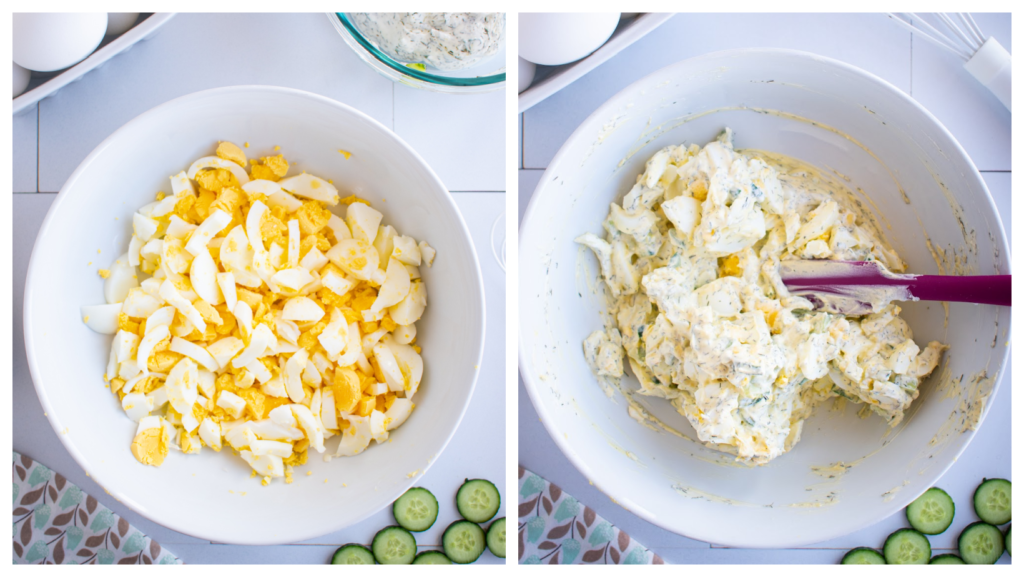 3. Add Tzatziki sauce to the egg mixture.  Once you get the texture, you like to prepare and enjoy your sandwich!
What is the best method for boiling eggs?
1. add your eggs to a saucepan and fill the saucepan 1/2 way with water
2. Bring water to a boil on the stovetop over medium heat.
3. Let boil for 10-12 mins.
4. Immediately let the water out of the saucepan in the sink and fill the saucepan with the coldest water you can get out of your faucet.  Adding cold water to the eggs after will make peeling eggs easier.
Tzatziki Egg Salad
Ingredients
8

hard boiled eggs

peeled and chopped

1 cup

tzatziki sauce
Sandwich or Salad Fixings
pita bread or naan

lettuce

cucumbers

tomatoes

kalamata olives
Tzatziki sauce
1

cup

Greek Yogurt

1

tablespoon

dried dill

1/2

cup

chopped cucumber

1

teaspoon

onion powder

1/2

teaspoon

lemon juice

1

dash

salt
Instructions
Boil Eggs. Bring water to a boil and cook eggs for 10 minutes. remove and run cold water over eggs immediately after removing them from boiling water.

Peel eggs and chop. Place chopped eggs in a bowl.

In a separate bowl, mix together ingredients for tzatziki sauce. Set aside.

Mix tzatziki sauce in with the eggs.

For best results, let the tzatziki egg salad marinate in the fridge for about an hour.

Build your sandwich or salad and serve.
You will love the taste of this Tzatziki egg salad recipe. This dish has a ton of protein and is filled with beneficial calories.   This egg salad makes a delicious sandwich, lettuce wrap, salad, or alongside fresh veggies.
If you like this recipe, you should also try the following:
Did you like this Greek-Inspired Tzatziki Egg Salad? I would love to hear how it turned out for you! Please comment below this blog post or tag me on social media and let me know how you like it! You can find me on Pinterest, Instagram, Twitter, and Facebook.