I have started to love cooking with stew meat in my Instant Pot! I love how you can pressure-cook inexpensive cuts of beef and make them mouthwatering tender!  You can create many recipes using stew meat that isn't stew!  I love how stew meat can cook in your Instant pot in a matter of minutes, while it takes much longer when you cook an entire roast.   You can use stew meat for any beef recipe for chopping up beef and browning.   I have readers ask questions about what to make with stew meat that isn't stew.  I have compiled a list of crowd-pleasing 30-minute dinners that will taste amazing! 
What cut of meat is Stew Meat?
Stew meat is beef made from inexpensive cuts of meat that have tough connective tissue, namely chuck or round.  When you pressure cook stew meat in your Instant Pot, the connective tissue breaks down and becomes melt in your mouth tender.
What can I make using Stew Meat Besides Stew?
You can use stew meat for any recipe that calls for chopping up beef.  When stew meat is cooked in your Instant Pot, it turns out tender enough to be applied to recipes that would call for shredded beef or ground beef.
What are some tips for cooking Stew Meat in your Instant Pot?
When you buy stew meat at the store, it can come in pretty large chunks.  I like to cut those chunks into smaller pieces before cooking them in my Instant Pot, especially if I mimic a "shredded beef" recipe with stew meat.  Most of these recipes can also be made with other cuts of beef, such as chuck roast.  I would make sure you chop the beef into smaller pieces when making these instant pot recipes.
I like to use the saute function on my Instant Pot to brown the beef slightly before I pressure cook it.  Don't cook the meat all the way through before pressure cooking it, but browning it enhances the flavor.
Many of these beef stew meat recipes can be adapted for a slow cooker.  Check out each recipe before you adopt it.
How long do you cook stew beef in your Pressure Cooker?
The cooking time can vary when cooking stew meat in your Instant Pot.  If you are cooking stew meat only, I like to cook it for 15 minutes and let the pressure naturally release if I want it to be melt in your mouth tender, but if you are pressed for time, you can use a lower cooking time- 8-10 minutes and use a quick release.
Ingredients to keep on hand for when you want to cook off the cuff with stew meat 
beef broth or beef bouillon cubes
Yukon gold potatoes, or russet potatoes
garlic
onion
cornstarch for a cornstarch slurry
tomato paste
tomato paste
egg noodles
carrots
Worcestershire sauce
This beef and barley soup is filled with veggies and is made with tomato paste.  You will love a bowl of this soup on a fantastic day.  
I have included instructions on how to make brown butter in your Instant Pot.  This entire meal is cooked on high pressure for just a few minutes.  The results are outstanding!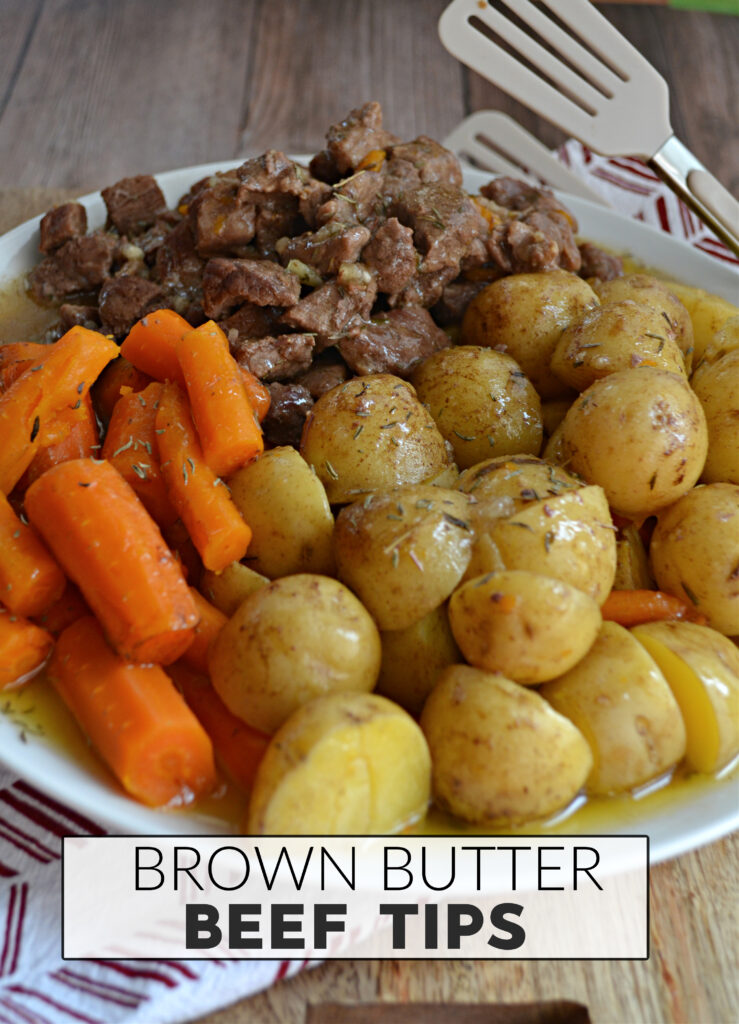 This Bloody Mary Beef Goulash is high in protein, and you will love how the beef tips taste in this instant pot beef stew recipe.  You can also add frozen peas to this dish.  
These stew meat beef sandwiches are cooked in a 1 cup beef broth and taste delicious on a roll. The total time for this meal is under 30 minutes.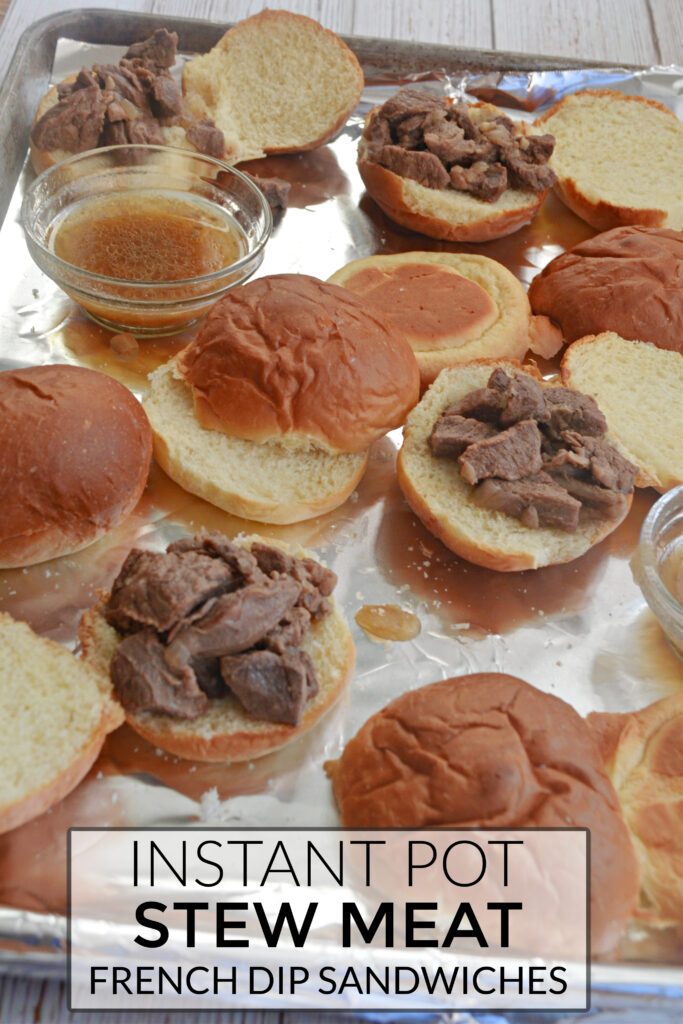 These stew beef gyros require only a few minutes of prep time but produce a big flavor. 
When you make these Stew Meat Chili lime tacos, your house will smell amazing with you venting the pressure out of your pressure cooker and opening your pressure cooker lid!  
These stew meat sloppy joes are rich tasting and even include a vegetable or two in this recipe! 
These Instant Pot Maple Dijon beef tips are not low in calories, but these brown bits will satisfy everyone in the family any day of the week! You will want to make sure you add tablespoon cornstarch to thicken the sauce at the end of the pressure cooking process. 

Hot beef sundaes are a specialty at the Iowa state fair!  Although this dish is high in carbohydrates, it is satisfying and comforting any time of the year. 
What kind of stew meat recipes do you like to make in your Instant Pot?  Did you try any of these recipes?  If you did, comment below or tag me on social media!  You can find me on Facebook, Instagram, Tiktok, Pinterest, and Twitter.