Have you ever tried the Iowa State Fair Hot Beef Sundae?  This comforting mashed potato sundae also makes an easy weeknight dinner option.  You can cook the potatoes and the beef together in your Instant Pot if you follow the easy instructions in this recipe.  I love how tender beef turns out when you pressure cook it!  
If you want to make a "midwest" meal for someone, there are several options.  Meatloaf and mashed potatoes, any casserole, taco pizza ( really Dorito pizza), any jello fluff recipe, or any recipe at all involving ranch dressing
would be great ways to welcome a newcomer to the area.  If you have a friend visiting Iowa for the first time, you should take them to the Iowa State Fair. 
The food options at the Iowa State Fair are endless.  Fried desserts, lots of food on sticks, endless variations of corndogs!   But I think the most signature dish at the Iowa State Fair is the Hot Beef Sundae that you can get at the Iowa Cattlemen's quarters. The hot beef sundae made its debut at the Iowa State Fair in 2006!
Not only was this easy, it only used a few ingredients.   I served these Hot Beef Sundaes with a side of fresh green beans, but you can also get creative with these hot beef sundaes. You can add any vegetable you might like to these.  Your kids will love this meal, and I mean, how much fun is a dinner that looks like an ice cream sundae?
Here is how this Hot beef Sundae Stacks up:
The " ice cream" is mashed potatoes.
The " hot fudge" is shredded beef and gravy.
The " sprinkles" are shredded cheese.
The " whipped cream" is sour cream.
The "Cherry" is a cherry tomato.
You will want to serve these sundaes in individual bowls or sundae cups.  You can use an ice cream scoop to serve the mashed potatoes, and don't forget to pile on the cheddar cheese and place a cherry tomato and a dollop of sour cream in the center of each serving!
This meal is super easy!  Everything cooks in one pot, and you will have hardly any dishes at the end of your meal!  I have a lot of family members who eat gluten-free.  Hot Beef sundaes would be a great meal to make for a crowd of people, and you would have something delicious for the gluten-free and gluten eaters alike!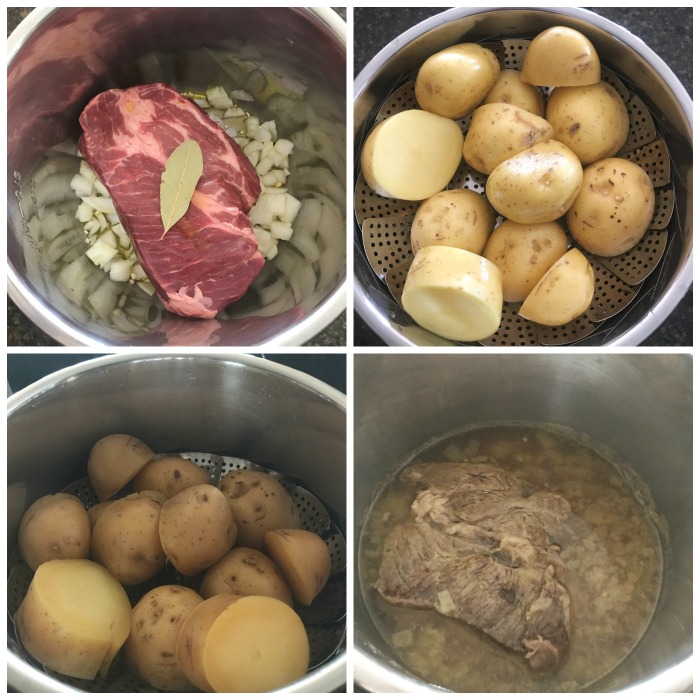 What cit of beef should be used to make Hot beef sundaes
I used a 2-pound Angus roast to make this meal.  You can use any cut of meat that you would also use to make a pot roast. A chuck roast, or even stew meat if that's what you have.  You will want to adjust the cooking times based on the size of the beef you choose to use.
Can leftover roast beef be used to make hot beef sundaes?
Yes
You will want to use the leftover beef broth in the pot to make gravy for your hot beef sundaes.  Just whisk in some cornstarch, flour,  or gravy, mix into the leftover cooking juices and use the saute function to make a sauce.   Spoon some of the gravy sauce on top of your sundae.
Pressure Cooker Hot Beef Sundae's
Ingredients
2

pound

angus beef roast

or a beef roast of your choice

1

small

white onion, chopped

1

clove

minced garlic

2

tablespoons

olive oil

1

tablespoon

corn starch

2

cups

beef stock
Mashed Potatoes
2

pounds

Yukon gold potatoes

2

tablespoons

butter or ghee

salt and pepper to taste
Hot Beef Sundae fixings
shredded cheese

green onions

cherry tomatoes

sour cream
Instructions
On the bottom of your Pressure cooker, drizzle olive oil. it is followed by onions.  Place your beef roast on top of the onions and place garlic and the bay leaf on top of the roast.  Add beef stock.

Place your pressure cooker trivet or a vegetable steamer on top of the beef. Wash your potatoes and cut them in half. Place the potatoes on the trivet.

Close your Pressure Cooker Lid

Cook on high pressure for 40 minutes

Remove lid. Remove potatoes from the Pressure Cooker and set aside.

Remove Beef and place in a bowl.

Set your pressure cooker to the saute setting and add corn starch to make your gravy.

Once your gravy has been made, add the beef back in and shred it.

Make your mashed potatoes. Place potatoes in a bowl, they should melt down fast. Add butter and salt and any other things you like in mashed potatoes.

Build your sundaes in a bowl. Place mashed potatoes, followed by hot beef and gravy, cheese, sour cream and a cherry tomato on top. Add green onions for a garnish.
In addition to using the trivet that came with my Instant Pot Duo, I also use this simple metal vegetable steamer
to separate two different foods in mine. You can also try making this meal in a dutch oven or a slow cooker. You can also choose to make your mashed potatoes separately by bringing them to a boil on the stove over medium heat.
Your mashed potatoes will be cooked, so they probably won't need to be mixed in a mixer.   I like to keep the skins on my potatoes, but you obviously can do what you prefer.
If you're not a beef eater, I think this would be tasty with barbecue pulled pork!
Hot Beef Sundaes are such a festive farmhouse table dish!