This post may contain affiliate links 


Check out my entire collection of broccoli salad recipes!
Another Broccoli Salad?  My weblog. My rules. 🙂
I took the broccoli salad concept and ran with it.  Why?  Because my kids love broccoli! They love broccoli casserole, broccoli soup, steamed broccoli with cheese, steamed broccoli without cheese, and broccoli salad.  I love broccoli salad too!
And do you know what else I love?
Tzatziki Sauce.  I am always looking for an excuse to put Tzatziki sauce on something.  Chicken gyros, beef gyros, chicken salad, Greek bratwurst burgers. I love dipping vegetables in it and making egg salad.  I might drink the stuff, given a chance.  It made sense to make broccoli salad with it.
Okay, back to this Broccoli Salad.
I added all of my favorite Greek toppings to this broccoli salad.  Afterward, I thought that crumbled feta cheese and roasted chickpeas would make great additions as well.
I included dill, cucumbers, tomatoes, kalamata olives, red onion, scallions, and a few tablespoons of dillweed.
During the summer, I would substitute the dillweed with fresh dill.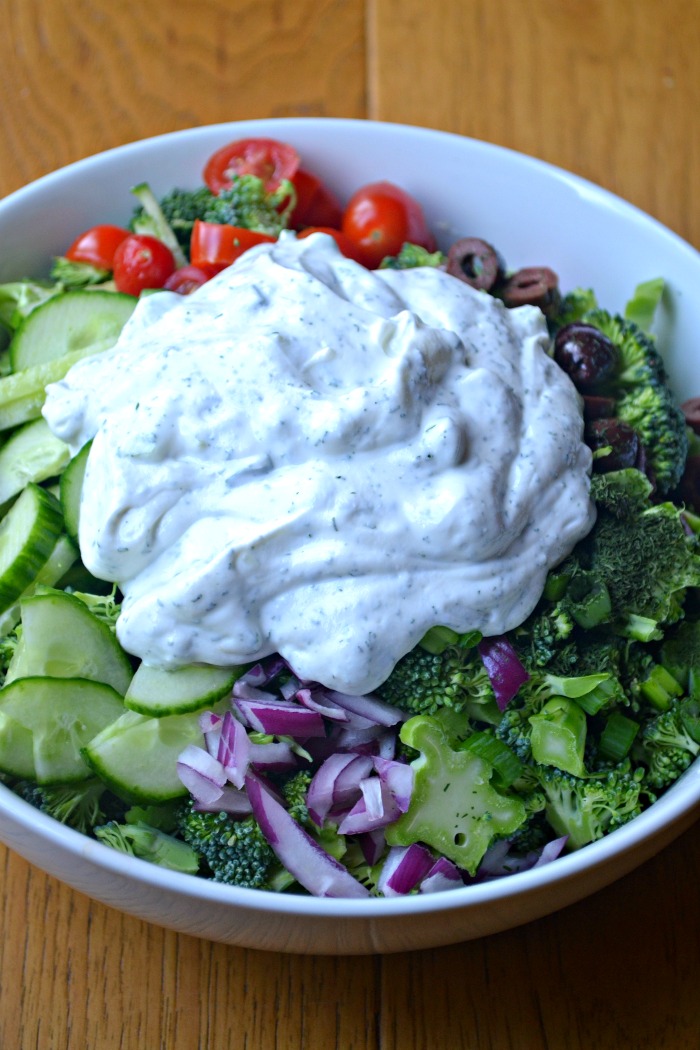 Greek Broccoli Salad
Ingredients
8

cups

chopped broccoli

1/2

cup

sliced cucumber

1/2

cup

sliced grape tomatoes

1/8

cup

chopped red onion

1/8

cup

chopped green onion

1/8

cup

kalamata olives

1

cup

Tzatziki Sauce
Tzatziki Sauce
1

cup

Greek Yogurt

1

tablespoon

dried dill

1/2

cup

chopped cucumber

1

teaspoon

onion powder

1

dash

salt

1

dash

pepper

1/2

teaspoon

lemon juice
Instructions
Mix up the Tzatziki Sauce. and Marinate the sauce in the fridge for about an hour.

Chop up vegetables, broccoli, tomatoes, cucumber, onion, and olives

Mix up the broccoli salad. Add all of the ingredients. Save the Tzatziki sauce for last. Mix up the Tzatziki sauce.
I hope you enjoy this broccoli salad as much as I did!
If you like this, you might enjoy my other broccoli salads.
Strawberry Poppyseed Broccoli Salad 
Blueberry Lemon Poppyseed Broccoli Salad
If you made this recipe, I would love to hear how it turned out!  Please comment below this blog post or tag me on social media.  You can find me on Pinterest, Twitter, Instagram, and Facebok.