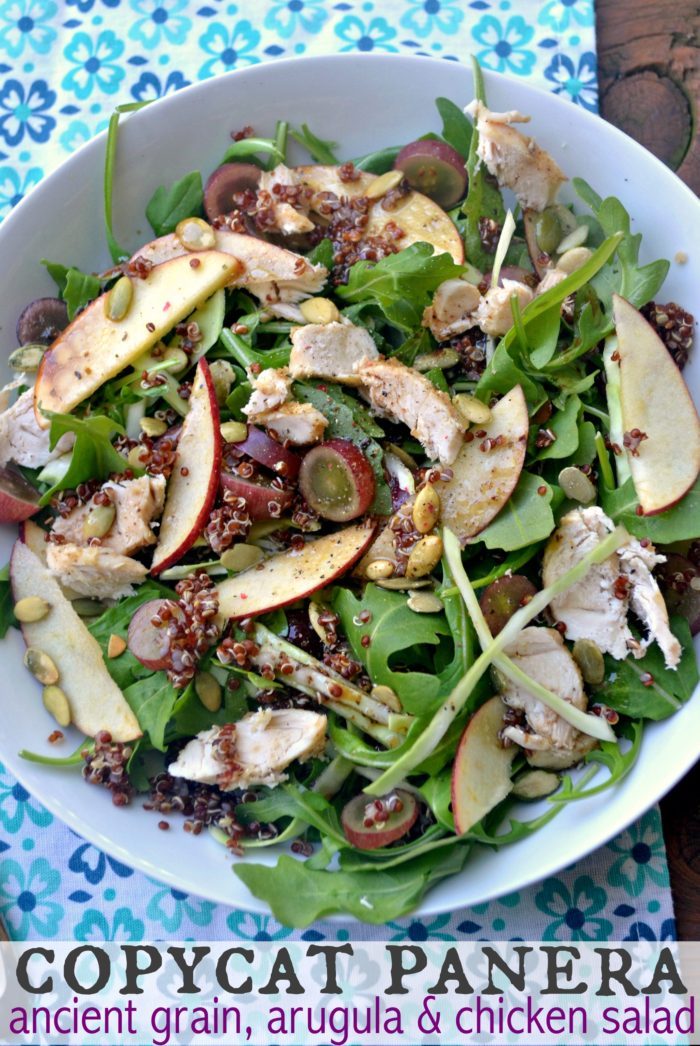 Back when I was younger, you would have never found me in a restaurant eating alone.  But now, it is something I look forward to.
A few times a year, usually on a Friday night, I will leave Greg at home with the kids, and I will head out to run errands and get dinner.  When this happens, I almost always end up at Panera.  Panera is usually quiet at night, and I can sit down and eat in silence.  It is amazing.
What do I love at Panera?  Everything.  But I usually end up getting a salad.  Panera salads are always a fantastic balance of flavors and textures.
A few weeks ago, I enjoyed the ancient grain, arugula, and chicken salad with my "choose two," and I loved it!  I thought I would try to make this at home!
I don't always buy arugula.  Arugula is almost a little spicy and light.   Plus, I loved the addition of the ancient grains to this salad.   The addition of the ancient grains made this salad a meal, not just a salad.
For my ancient grains, I just used quinoa.  And I cooked my quinoa in my instant pot.   Did you know that cook time for quinoa in an instant pot is only 1 minute?
I also used leftover chicken from the night before.  You can get frozen chicken breast for salads, or even get a rotisserie chicken to keep in the fridge.
Copycat Panera Ancient Grain and Arugula Salad 
Makes one salad
Ingredients 
2 cups of Arugula
1/8 cup of cabbage, cut into long skinny strips
1/8 cup of apple slices, cut into thin slices
1/8 cup of cooked ancient grains- I used quinoa
1/8 cup of grapes, chopped
1/4 cup of cooked chicken pieces
1/4 cup of pepitas, or pumpkin seeds
Two tablespoons of white balsamic vinegar dressing
pepper to taste
White Balsamic Vinegar dressing 
One part white balsamic vinegar – you can use regular balsamic vinegar too.
1 part olive oil
1 part maple syrup
salt and pepper to taste
Method:  In a bowl, place arugula, cabbage, and apples and mix with salad tongs.  Arrange grapes, chicken, ancient grains, and pumpkin seeds.  Mix dressing in a bowl or salad dressing container. Drizzle dressing on top and top with freshly ground pepper.
This salad was seriously delicious!  I love finding new and easy salad recipes!  I might even like my copycat better than the original!