I love a piping hot bowl of chili with toppings galore on a cold day. Making chili in your Instant Pot takes less than 30 minutes but tastes like it has been slow cooking all day. You can make chili in your Instant Pot for a quick meal, all while being liberated from your kitchen as your pot cooks the chili for you! There are so many fantastic chili recipes out there!   Here are 15 simple and easy chili recipes to make in your Instant Pot!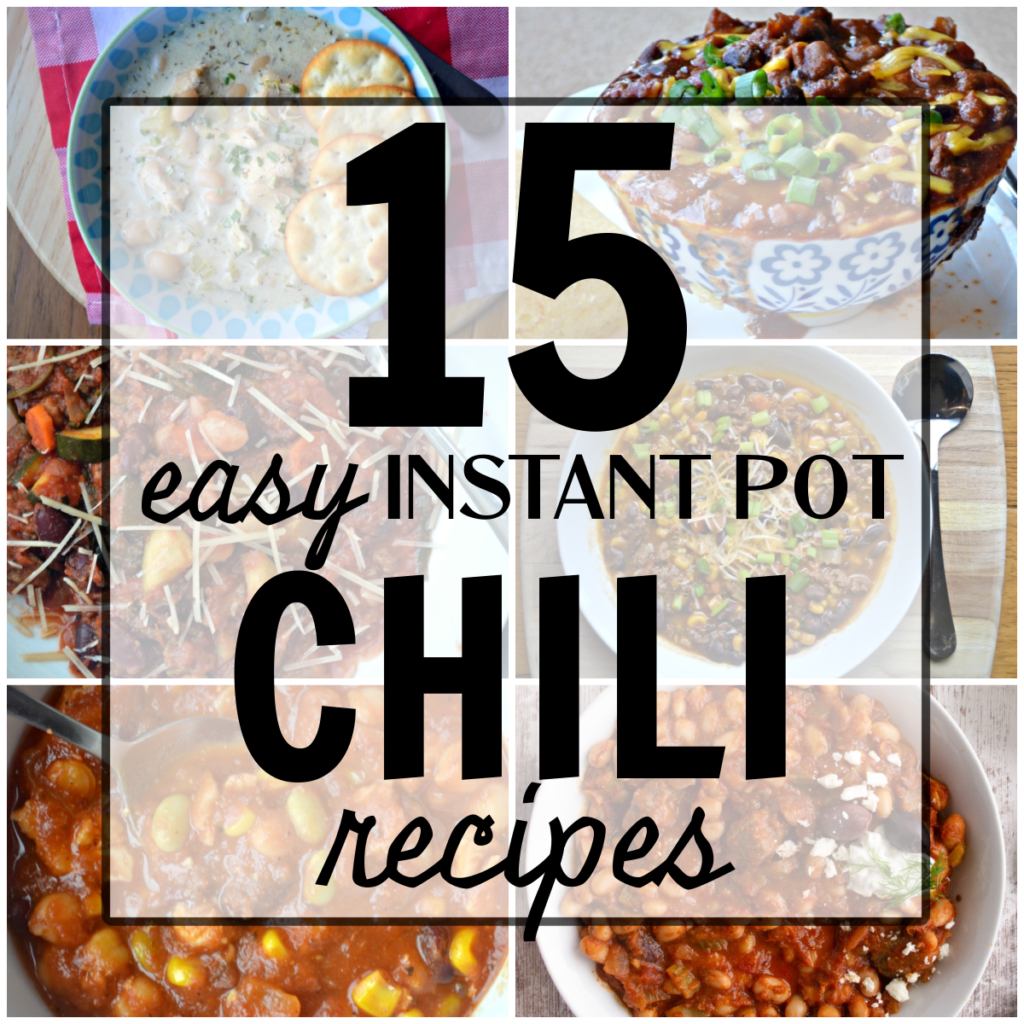 How to Adapt an Instant Pot Chili Recipe for a Slow Cooker.
Many Instant Recipes instruct you to saute the onion, garlic,  and ground beef or chicken before adding the remaining ingredients and pressing them.   If you want to make chili recipes in your slow cooker, you will want to saute those ingredients on your stove and add them with your ingredients to simmer them.
Basic Instructions on how to cook chili in your Instant Pot 
1. Set your Instant Pot to the saute setting. Add oil, aromatics, and spices. Stir until the onions/garlic are transparent.
2. Add Meat and Brown, but don't cook the meat all the way through.
3. Add the remaining ingredients to your Instant Pot Pot, including tomatoes, broth, beans, etc.
4. Close and secure your Instant Pot lid.
5. Flip your pressure release valve to." sealing."
6. Pressure Cook Chili on manual on high pressure for 10-15 minutes, depending on what recipe you're following.
7. Many recipes will have you saute your chili to thicken it.
Chili Instant Pot Recipes
You will love the flavor of this Basic Beef Chili cooked in your Pressure Cooker.
This Chili has no tomatoes and is an excellent recipe for your loved ones who get heartburn from them. This recipe has sweet bell peppers for color and black beans.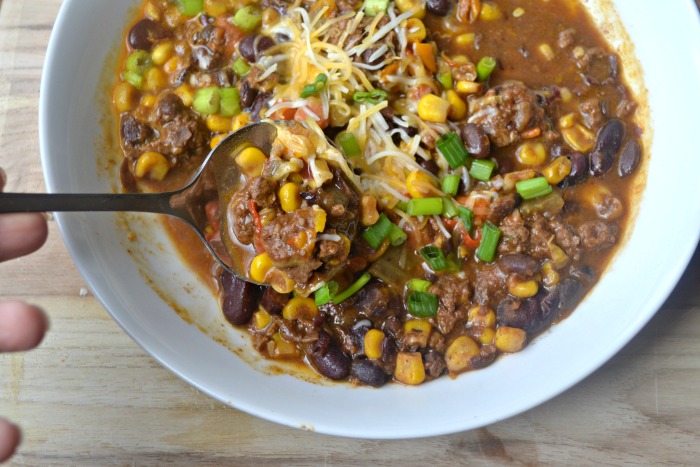 Instead of the traditional chili, black beans, or kidney beans,  try making chili with sweet baked beans! Your kids will love this chili!
In Iowa and Nebraska, it is common to eat a cinnamon roll with your chili. This cinnamon chili is an excellent different recipe to try!
Ground Pork is often less expensive than lean beef; pork tastes excellent with chili seasonings such as ground cumin and chili powder. This simple recipe includes pinto beans, tomato paste, and some herbs.
If you're looking for a different chili recipe, you must try this Greek-Inspired Chili! All you need is tomato sauce,  a few garlic cloves, and your favorite greek seasonings like marjoram and oregano.
Adding Greek flavors to chicken chili is a great way to switch things up! This makes a great slow cooker chicken chili.
If you like buffalo chicken wings or chicken dip, you will love this twist on chicken chili.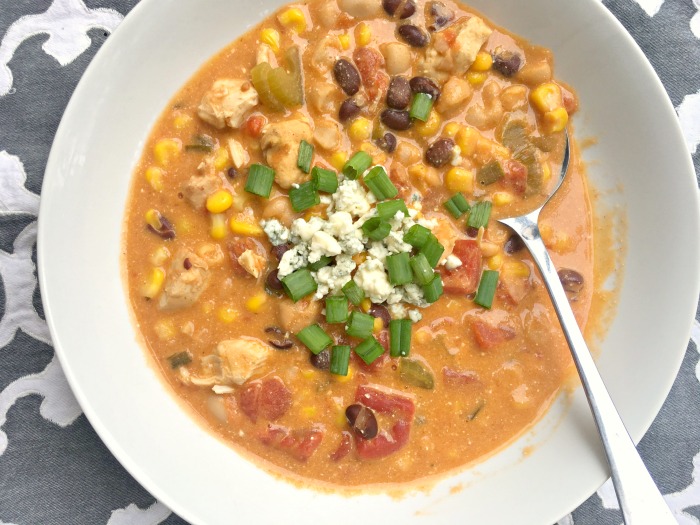 You should try making this beanless quinoa chili if you're avoiding beans. This recipe still has fiber and is lower in carbohydrates. This recipe is easy. Add tablespoons of chili powder,  quinoa, corn, tomatoes,  and a tablespoon of tomato paste to this recipe.
Making this copycat Panera Turkey Chili is a great recipe if you want to save money. I like to make this recipe, freezing lunch-sized portions for later.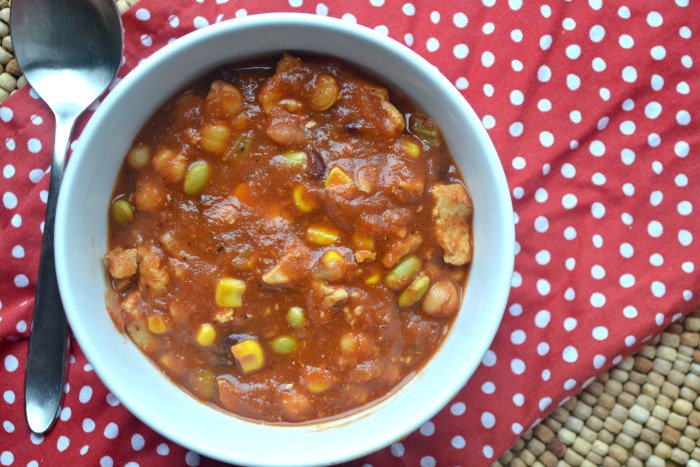 This minestrone chili is loaded with vegetables!
Taco flavors taste amazing in chili. I love the taste of beef broth in this recipe. I also love adding a few chipotles to this recipe!
Ensure you garnish your chili with a few red pepper flakes and lime juice!
Remember to garnish your chili with all your favorite chili toppings!
Some of my favorite chili toppings include:
Green Onions
Cheese
Avocado
Sour Cream
Corn Chips
Cornbread
Did you know that most chili recipes have a bit of protein and vitamin C.   Chili is a delicious meal for your family during the fall and winter seasons! I will love to hear from you if you make these chili Instant Pot recipes! Please comment below this blog post and let me know how they turned out for you! You can also tag me on social media. I am on Facebook, Pinterest, Instagram, and Twitter.