Thank you to Wild Twist® Apples for Sponsoring this post. You can find Wild Twist® apples at Hyvee.
If you're a frequent reader of this website, then you might remember last year when I got to sample these delicious WildTwist®  apples from Hyvee.
WildTwist®  Apples are unique because they're in season in  February instead of during the fall.  WildTwist®  Apples are a hybrid of Pink Lady and Honey Crisp apples. They have a slightly mellow, slightly tart, and somewhat sweet flavor. Although you can use these apples in various recipes, I highly suggest that you eat them just as they are.
2022 has turned into a busy year, with my kids back to their usual activities. We have sports and music lessons at least five days a week.   Instead of hitting up the drive-thru or keeping processed snacks in the car, I find preparing simple snacks to eat while we're headed in between things much easier. Plus, they certainly make you feel a lot better too.
Here are five "on the go" snack ideas to make with WildTwist Apples. All of these work when Wild Twist Apples are in season because it is still cool enough outside to throw these in our car when you're driving all over town.
Five On the Go Snack Ideas with WildTwist®  Apples
Apple Slices Stored in a Mason Jar with a nut mix.
Wild Twist Apple Slices paired with some protein will help you curb your hunger when you're out this winter.   I have tried enough apples over the years to know that not all apples are created equally. Wild Twist Apples are a snack that you will look forward to.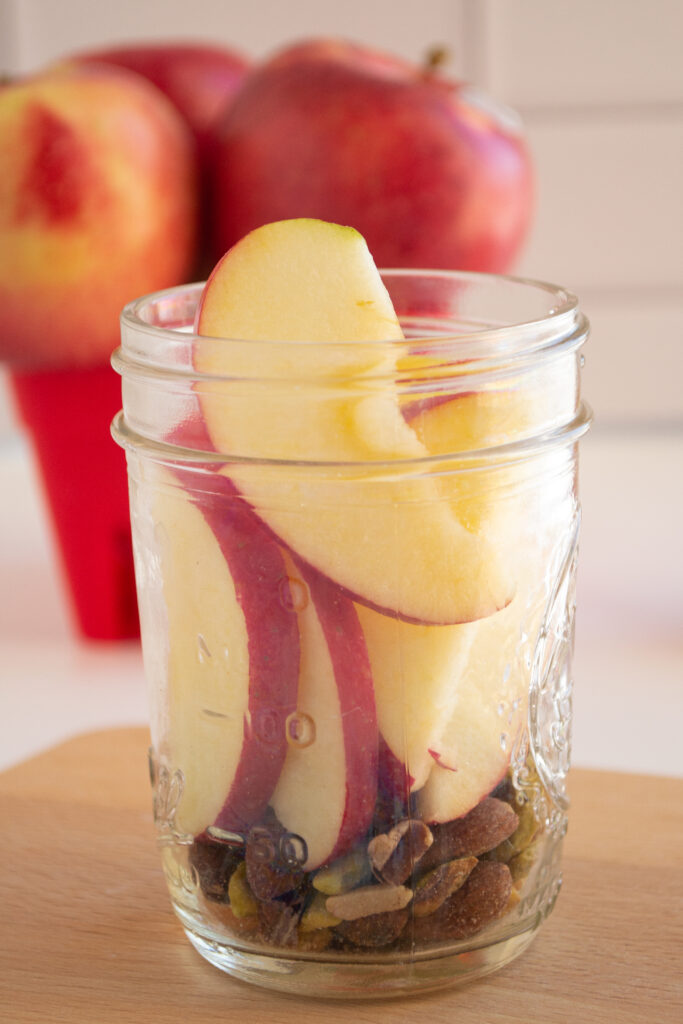 Wild Twist Bistro Box
This Bistro Box makes a leisurely "lunch" between basketball games on a Saturday. This is filling, kid-friendly, and everyone will love the crunchy crisp Wild Twist Apples with a few salty items. This is also an easy lunch to throw together for work.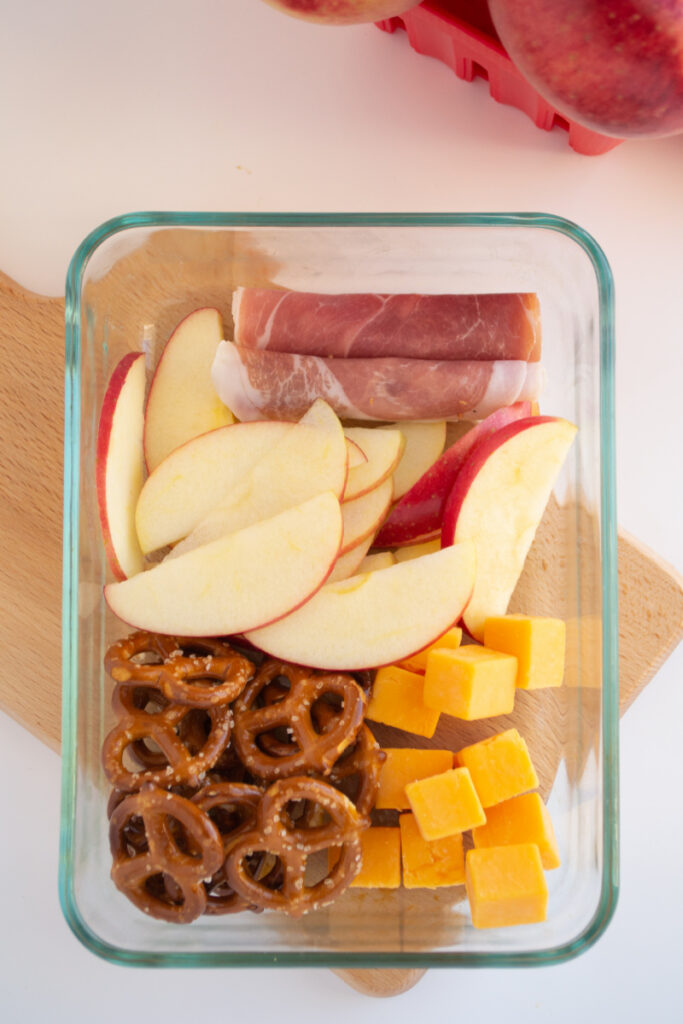 Apples and Cheese
Wild Twist Apples can complement cheese very well.   My kids enjoy apples and cheese together for a quick on-the-go snack option.   This is also an excellent snack for kids to bring to school for snack time or in their lunchbox! I try to buy from small businesses as much as I can. The Hess Brothers is a family-owned business from Lancaster, PA.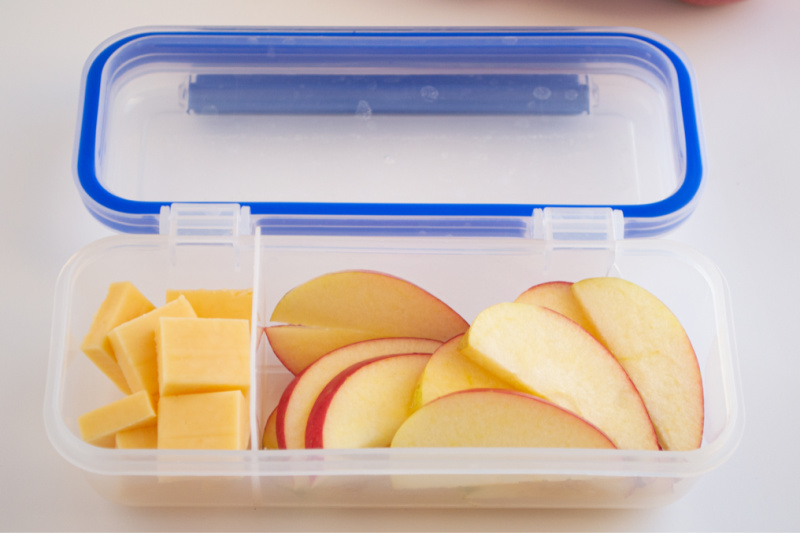 Easy Apple Shaker Salad 
If you're looking for a little "pre-dinner" or "pre-lunch" snack to have, then look no further than this mason jar salad shaker.
All you need is:
Wild Twist Apples
Spring Mix,
Crumbled Goat Cheese
A simple vinaigrette.
Just shake this up when you're ready to eat and enjoy it while waiting for your kids to finish their music lessons or sports practice.
A simple vinaigrette.
Just shake this up when you're ready to eat and enjoy it while waiting for your kids to finish their music lessons or sports practice.
Wild Twist Apple -as is.
One of the most incredible things about the Wild Twist Apple is that the flavor is super refreshing, and you can enjoy it wherever you are. If you don't have time to pack some of the snacks above, you can take a bag with you wherever you're going and have a healthy snack to look forward to. One thing that makes WildTwist® Apples unique is that these apples go to market in the wintertime, unlike many other apple varieties.   They are stored in controlled atmosphere refrigerator rooms to help them attain a mellow flavor before you see them in grocery stores.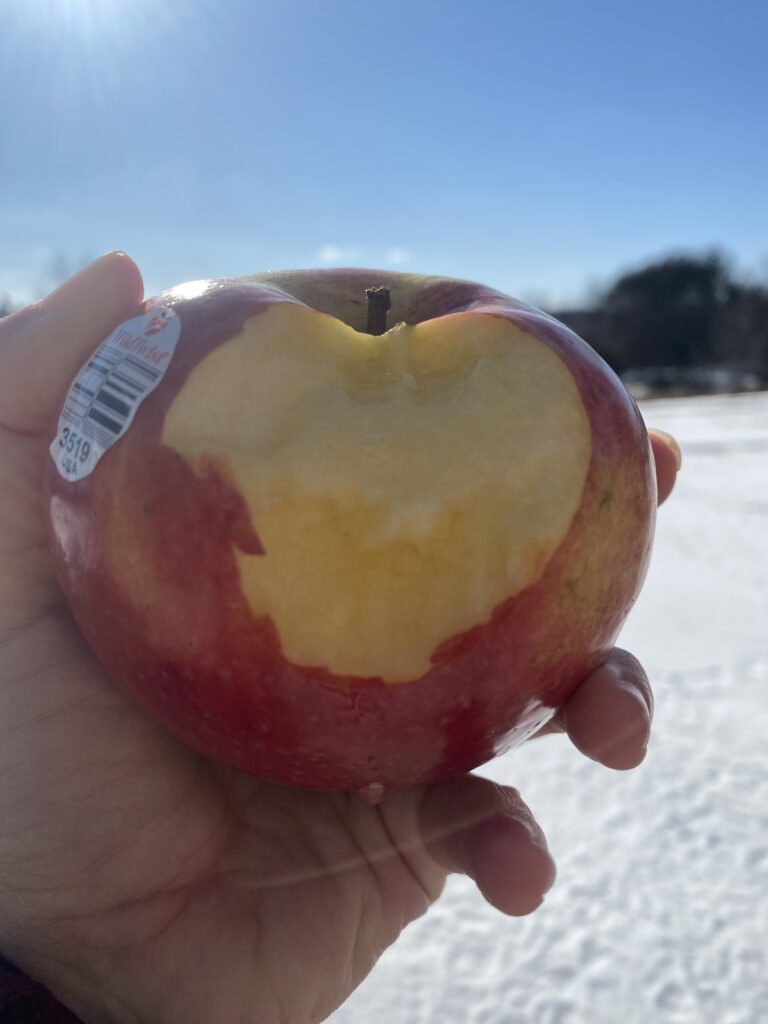 These past few years have been stressful at times. Self-care and teaching my kids to make healthy choices has become a priority. I can tell that my kid's moods are much happier when eating healthy. Don't forget to pick some Wild Twist Apples up during February at Hyvee. 
Please call ahead to make sure your local Hyvee carries WildTwist®Apples.