Thank-you to Wild Twist® Apples for Sponsoring this post.  You can find Wild Twist® apples at Hyvee.
My husband and I enjoy going on adventures with our three sons.  Traveling, hiking, sledding, skiing, exploring parks, going to sporting events and spending time outdoors with friends.  Even before the pandemic, we enjoyed these adventures, and the pandemic only helped us grow our love for the outdoors.
Although we will sometimes buy a specialty food item when we are traveling or out and about, we bring our meals and snacks about 90% of the time.  There are many benefits to packing your own snacks when traveling, exploring locally, or just attending events around town.
Five Reasons why you should always pack your own Meals and Snacks 
It's Healthier- Although some restaurants and convenience stores sometimes sell healthier options, if you're trying to eat a balanced diet, food from home is always more nutritious.   I always feel better when I am eating whole foods like fruits and vegetables, especially while traveling.  My three kids love fruit, and in my opinion, apples travel well and are a great meal or snack option to enjoy while on the go.
Before we travel, we go grocery shopping at our local Hyvee and stock up on snacks, so we can enjoy meals in the car and always present the kids with a snack after a hike or while we're in the car.  Meal prep doesn't need to be complicated.  All you need to do is pack is your favorite healthy foods.
Have you tried WildTwist® apples yet?  These apples are phenomenal.  They are a hybrid of two of my favorite apple varieties, Pink Lady and Honey Crisp.  Wild Twist® apples taste mellow tart with the perfect amount of sweetness.  I have purchased enough apples over the years to know that not all apples are created equal.  These apples are a snack you will look forward to eating.
Both Pink Lady and Honey Crisp are apples that I have always tended to gravitate towards.  But the flavor of WildTwist® is delicious.  Although these apples make delicious applesauce, apple crisp, and apple butter, they are perfect just as they are.
You will support small businesses- When I choose my groceries, not only do I usually shop the perimeter of the store, but I like to select food items produced by small businesses when I can.   I know there is a big push right now to support local restaurants, but many small businesses sell their grocery stores.  The Hess Brothers is a family-owned business from Lancaster, PA.
One thing that makes WildTwist® Apples unique is that these apples go to market in the wintertime, unlike many other apple varieties.  They are stored in controlled atmosphere refrigerator rooms to help them attain a mellow flavor before you see them in grocery stores.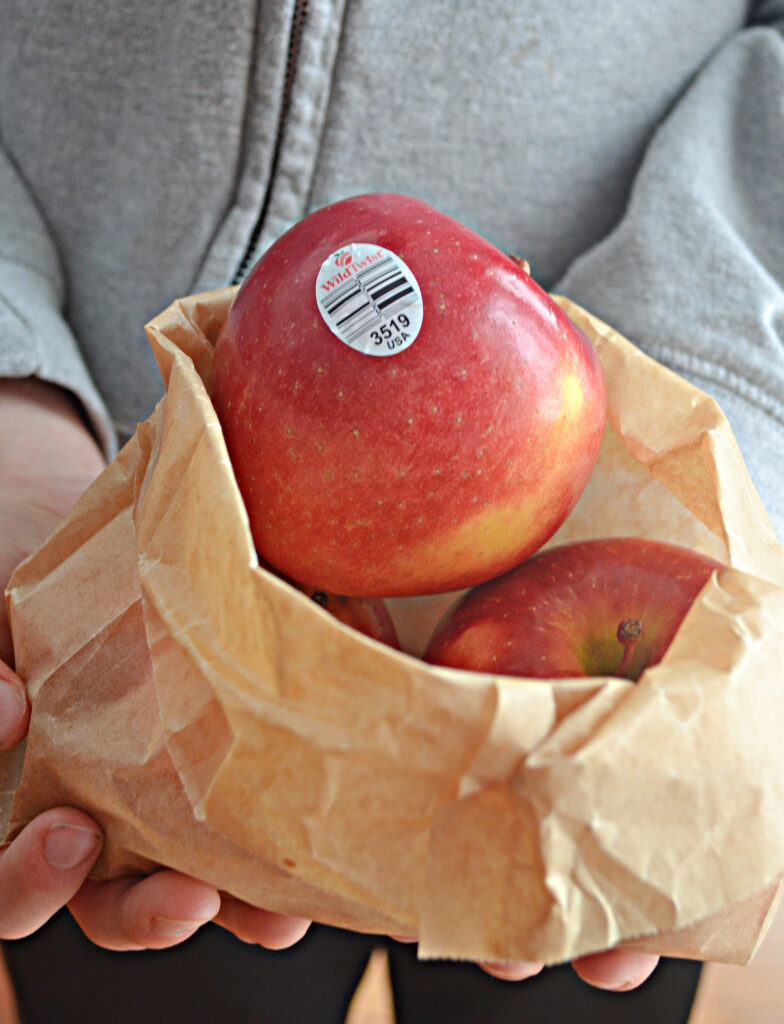 You will save money. When you pack your own food when you travel, you will save loads of money.   As a family of five, a trip to even an inexpensive restaurant for a meal adds up.   If you meal prep your own food, you can stretch that same amount of money into 2-3 meals for your family.  Plus, you usually will be enjoying higher quality ingredients than what you can find at "convenience restaurants.
You'll know what's in your food – I challenge you to stop eating unhealthy packaged snacks or fast food.  Once you stop, you will wonder why you ever ate meals and snacks filled with sodium and who knows what else.  You deserve better!  We all work hard and deserve good food to keep us going.   I keep our fruit basket on our lower countertop where my kids can always reach it.  If they are hungry in between meals, I always point to that fruit basket.  I let them eat fruit whenever they want because it's sweet and nourishing.  I can tell that my kid's moods are much happier when they are eating healthy.
It will save you time and sanity- At an event far from home with a hungry child?  Instead of waiting in line to buy them a snack, whip out an apple for them to eat.  If you are traveling, eating lunch in the car or stopping for a quick picnic is much faster than searching for a restaurant.  We have done enough traveling over the years to know that being able to pull out a healthy snack on demand can truly save the day.
You and your family are going to love this new apple variety.  You will want to add them to your Hyvee grocery pick-up or delivery list every week!  For more information about Wild Twist® Apples, check out their website!