This shop has been compensated by Collective Bias, Inc. and its advertiser.
Now that the weather is beautiful.  My husband and I keep talking about places we want to take the kids this summer!  We always take a few trips up to Door County, Wisconsin.  Plus, my husband and I on taking a little road trip to Chicago as well.
We make some great memories during family road trips.  We love spending time biking and hiking as a family during the summer months.   We like to pack everything we need into our van, including food!
We like to eat healthy when we are traveling.  I hate the feeling of stopping at a restaurant while on a road trip and finding no healthy options.   Plus, when you are traveling with little kids, it is essential to have healthy snacks on-hand.  It makes road trips go much smoother.
I put together these "Road Trip Snack Boxes" to take on the road with us.  I tried hard to include things that were filling and including foods that my kids like to eat.  Your family can snack on these while in the car, or you can stop at a rest stop and have a mini picnic too!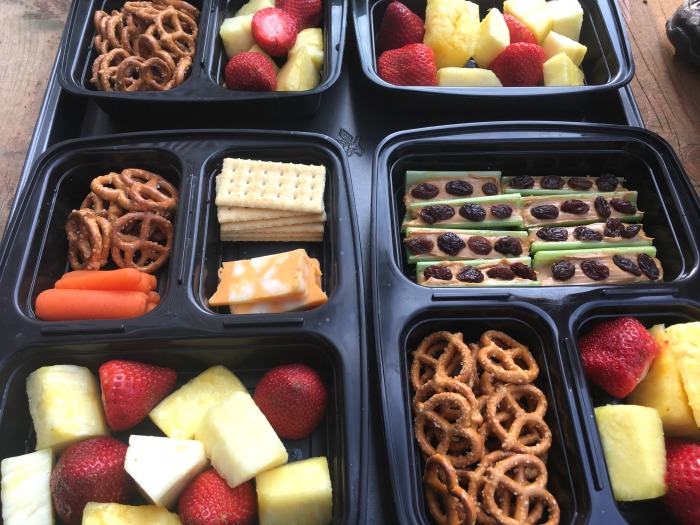 I also like to make sure that my car is ready for summer road trips.  I want to make sure my oil changes are up-t0-date, that my tires have air, and I also like to give my car an excellent vacuum before a family trip.
I filled these snack boxes with things that are easy to eat in the car: fruit, pretzels, ants on a log, and crackers.  You don't have to include these exact things in your road trip snack boxes, and there are a few snack items that I wouldn't suggest for car trips.
Bananas- too slimy
Muffins – too crumbly
Watermelon- too juicy
juice boxes- too sticky
Crunchy granola bars- too crumbly
those are items that are a little messy for Road Trip snack boxes.
Changing out your FRAM Fresh Breeze® cabin air filter is a great way to get your car ready for warmer weather.  Don't forget to pick up yours!