Zucchini Parmesan is my favorite meatless Italian dinner. You only need fresh zucchini and a few fridge and pantry ingredients to make this restaurant-quality dinner.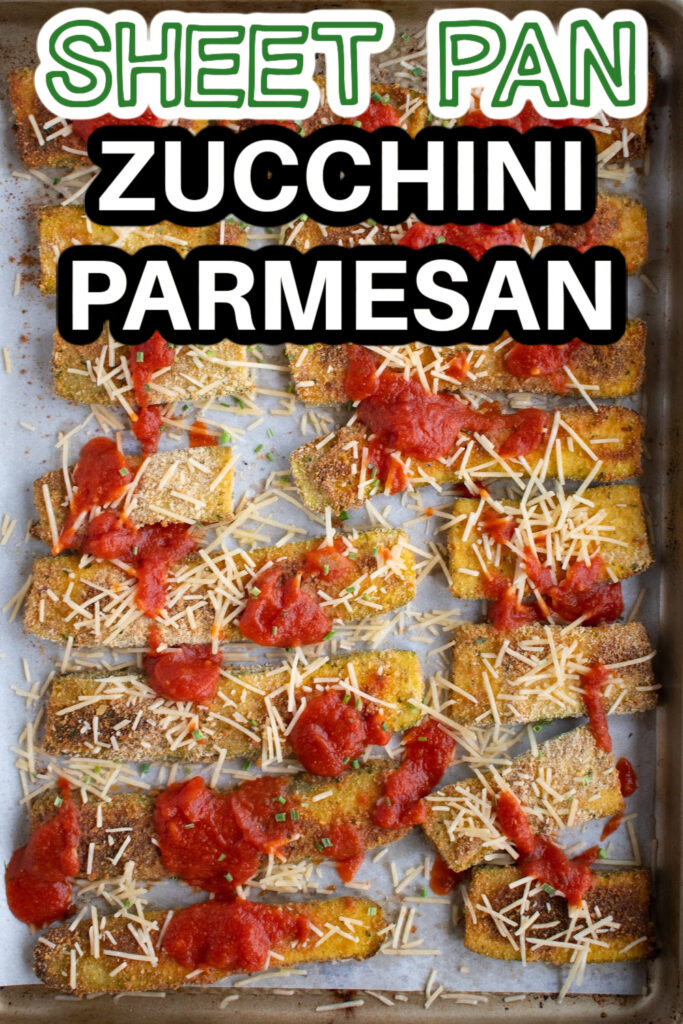 Prep Time: 15 minutes
Total Time: 40 minutes
Making sheet pan eggplant parmesan using a garden-grown eggplant was a highlight of summertime. However, finding the perfect eggplant can be challenging most of the year here in the Midwest, so I started making zucchini parmesan bake instead. Over time, zucchini parmesan has become my favorite summertime meal instead.
Crispy golden brown zucchini parmesan is my all-time favorite zucchini recipe!
Ingredients Needed
4-6  fresh zucchini– garden zucchini will taste the best, but the zucchini you buy from the grocery store year-round will also work wonderfully. You can also make this recipe using yellow squash.
One cup of Breadcrumbs– I have made this recipe using Italian breadcrumbs and Italian Panko breadcrumbs. You can't go wrong with either. 
Four eggs- You will want to whisk them together and use them as a binding agent. 
3-5 teaspoons of Extra Virgin Olive Oil– I like to drizzle olive oil on top of my zucchini before baking it in the oven.   It will give it extra flavor and add crispiness. 
Parmesan Cheese– you can grate or shred your parmesan cheese from the store. I recommend adding the cheese after you remove the crispy baked zucchini slices from the oven and let it melt over the warm zucchini. You can eyeball the parmesan cheese. 
Marinara Sauce– I usually serve the marinara sauce on the side during this meal. My family members prefer different amounts of marinara on their zucchini. The leftover zucchini slices will store better without being drenched in marinara sauce. 
Optional Ingredients:
You prefer garlic, basil, Italian seasoning, salt, pepper, or any other seasoning with your Zucchini parmesan. You can also add mozzarella cheese on top of your roasted zucchini. You can also sprinkle some parsley or fresh basil for a garnish. You can estimate how much you like each seasoning you decide to add.
Instructions
Set your oven to 400 degrees.

Wash your zucchini, and cut off the ends. Cut each zucchini into 3-4 vertical strips.

Line your sheet pan or baking sheet with parchment paper.

Using one hand, dunk each zucchini slice in the egg mixture, then toss each zucchini slice with breadcrumbs, coating it fully.

Once a zucchini slice is breaded, place it on the sheet pan in a single layer.

Roast zucchini for 20-25 minutes or until the zucchini has reached the level of crispiness you like.

Remove the zucchini from the oven. Zucchini should have a tender texture. Sprinkle with parmesan cheese right away.

10. Add sauce to the zucchini right before eating.
Storage
Store the leftover zucchini slices in an airtight container in the refrigerator. I recommend baking the leftovers in the oven on a baking sheet lined with aluminum foil so they can crisp up in the range.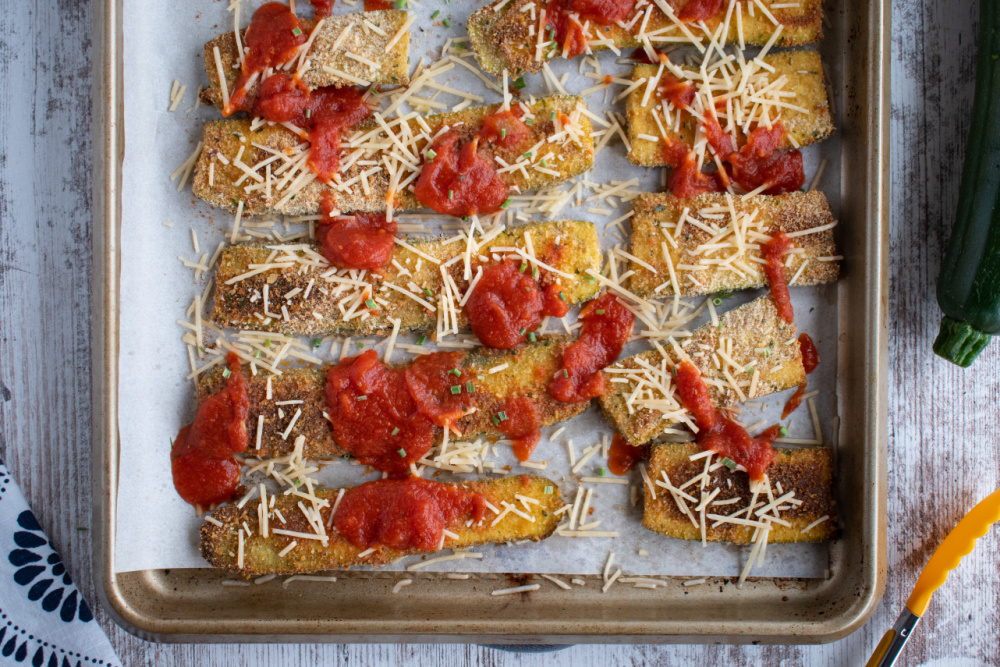 If you like this oven-baked zucchini parmesan, you should also try:
Can I make zucchini fries using this recipe? Yes! Just cut the zucchini into zucchini spears instead of slices.  
Nutritional information: zucchini has fiber, protein, vitamin c, vitamin k, calcium, and potassium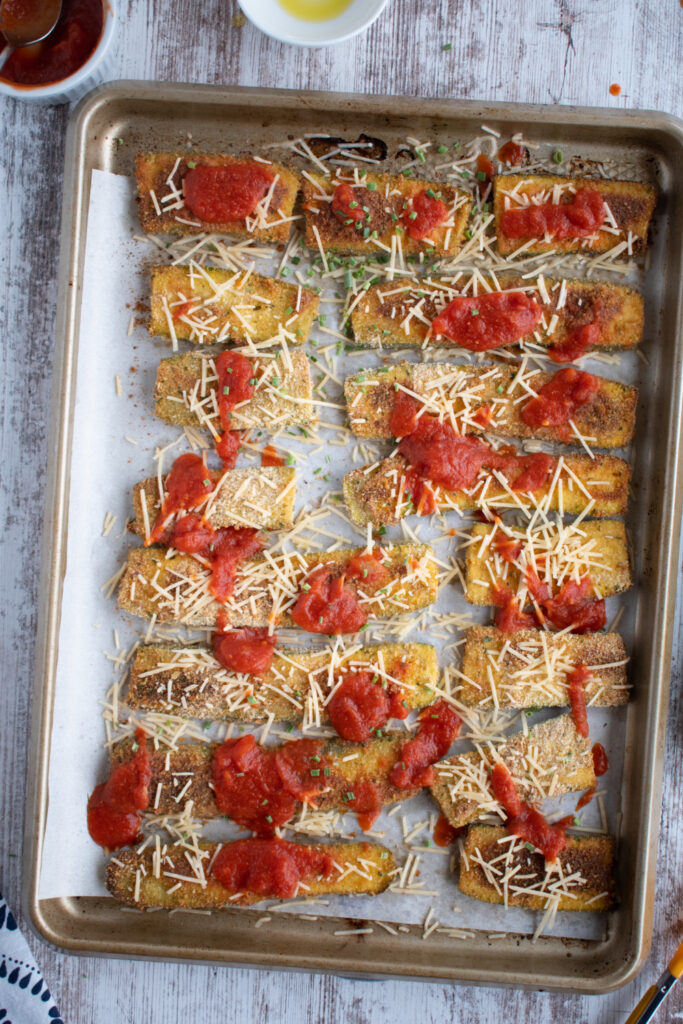 How did you like this crispy baked parmesan zucchini recipe?  I would love to hear how it turned out for you!  Please comment below this blog post or tag me on social media and let me know how you liked it!  You can find me on Twitter, Instagram, Facebook, and Pinterest.