Broccoli Salad is a dish that I can always get my kids to eat! This Apple Cider- Cinnamon broccoli salad is made with all things autumn! Candied pecans, salted pepitas, sharp cheddar cheese, sweet, crunchy apples, dried cranberries, and a sweet dressing made with apple cider and cinnamon! This is the perfect side dish to bring to and fall potluck BBQ,  Thanksgiving, or serve any weeknight at home!
This recipe is a long line of broccoli salad recipes that I have on this website. For some reason, my kids prefer broccoli salads to lettuce salads, so I roll with it! Not only do my kids love all the delicious toppings on this salad, but they usually eat all their broccoli as well ( okay, so one of my sons likes to pretend to be a giraffe when he eats broccoli, but I'll still take it)
In addition to the perfect apple cider-cinnamon dressing, I have added many glorious fall toppings to this salad.
Ingredients Needed:
Fresh Broccoli Florets
Dried Cranberries
Pepitas
Candied Pecans
Granny smith apples
Fiji apples
Smoked Cheddar Cheese
Green onions.
Broccoli Salad Dressing: mayo, apple cider vinegar, apple cider, brown sugar, and cinnamon. You can also add a dash of sea salt and pepper to taste.
Optional Ingredients: If you don't have all the toppings listed above, you can add these substitutions:  raisins, bacon, sunflower seeds, almonds, red onion, spinach, and kale.
If you like this broccoli salad, you might want to try some of my other broccoli salad recipes that have been popular online. ( I find that I am a broccoli salad expert)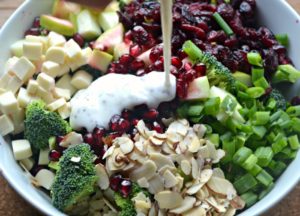 Blueberry-Lemon Poppyseed Broccoli Salad 
And many more Broccoli Salad Recipes. 
This is super easy to make! All you need to do is:
Toast the pecans in honey or maple syrup and cinnamon.
Make the sweet apple cider-cinnamon dressing.
Chop/prepare the rest of the toppings.
Chop broccoli
Throw it all together in a large bowl.
This is the perfect side dish to bring to any fall potluck, cookout, party, or family gathering. This makes a great side dish with a variety of sandwiches and burgers. It would be easy to bring the ingredients with you if you're planning on traveling for Thanksgiving!
Apple Cider and Cinnamon Broccoli Salad
– 6 cups fresh broccoli chopped
– 1/4 cup smoked cheddar cheese cubes
– 1/4 cup dried cranberries
– 1/2 cup honey cinnamon pecans
– 1/2 cup 1/2 inch granny smith apple chunks
– 1/2 cup 1/2 inch Figi apple chunks
– 1/4 cup pepitas
– 1/4 cup green onion chopped
– 1 cup apple cider & cinnamon dressing
Apple Cider and Cinnamon Dressing
– 1/2 cup mayonnaise
– 1/2 cup Greek Yogurt
– 1/4 cup apple cider vinegar
– 2 tablespoons apple cider
– 2 tablespoons brown sugar
– 1/2 teaspoon cinnamon
Honey-Cinnamon Toasted Pecans
– 1/2 cup chopped pecans
– 2 tablespoons honey
– 1/4 teaspoon salt
– 1/2 teaspoon cinnamon
Method
1) Make the dressing. Mix mayonnaise, yogurt, cider vinegar, apple cider, brown sugar, and cinnamon in a small bowl or measuring cup. Whisk together until the dressing is smooth.
2) Prepare pecans. Toss pecans with salt and cinnamon. Toast pecans in a small saucepan over medium heat. Drizzle honey on top of the pecans and toast for 4 minutes.
3) Prepare ingredients. Chop broccoli, apples, and cheese.
4) Assemble broccoli salad. Add broccoli, cheese, apples, dried cranberries, pepitas, green onions, and pecans in a bowl. Add dressing and mix. Serve.
Storage: This Apple Cider Broccoli Salad will stay fresh in an airtight container in the refrigerator for 4-5 days. You can store the dressing separately if you want it to last longer.
Nutritional Information:
Broccoli improves digestion, skin, and hair, contains fiber and protein,  and contains vitamin A, vitamin B,  vitamin K, and vitamin C.  it is one of the more nutritionally dense veggies.
This broccoli salad recipe. It's perfect for autumn tailgates and barbecues, and picnics are one of my favorite side dishes. The apple cider gives the perfect hint of sweetness to the vinegarette. I love all the different flavors and textures this salad provides. and your family will love it!
If you make this recipe, I would love to hear how it turned out! Please comment below this blog post or tag me on social media and let me know how it turned out.   You can find me on Pinterest, Facebook, Twitter, and Instagram.