This post is sponsored by the Iowa Egg Council.  All opinions are entirely my own.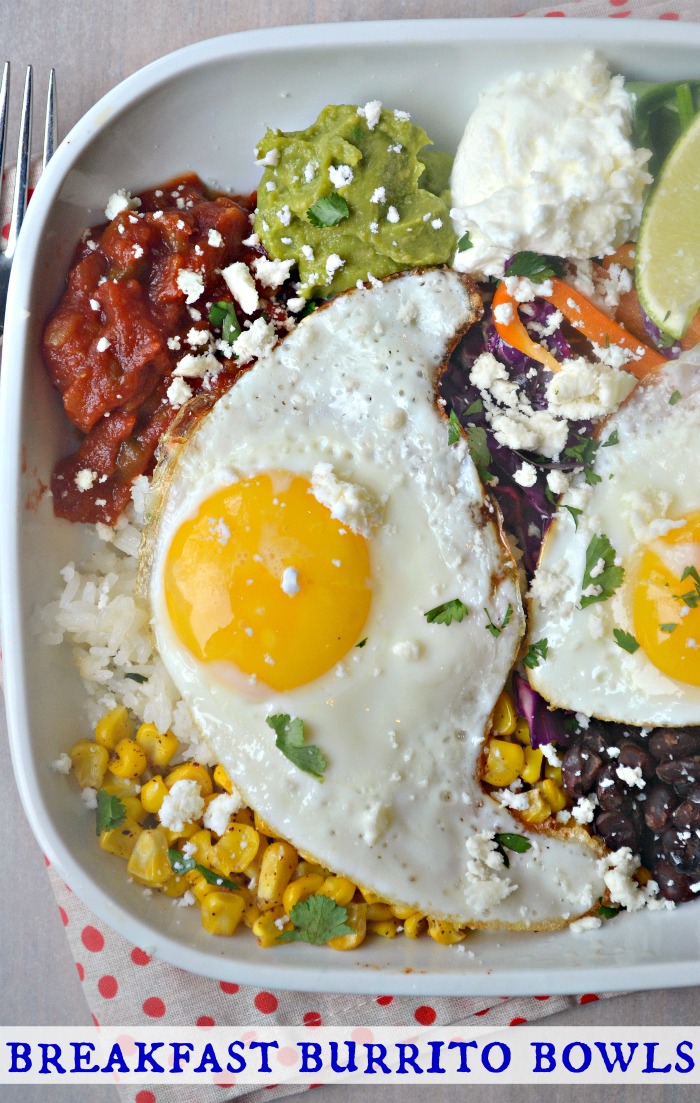 Burrito bowls are becoming my very favorite thing to make for a crowd of people.  For one, each person can top their own burrito bowl with whatever toppings they prefer, so this meal can be served to folks who are gluten-free, paleo, whole 30 or "insert diet of choice" here. Second, putting together a burrito bowl bar is super easy. It just requires you to cook a pot of rice and prepare toppings.  And third, burrito flavors seem to be popular with everyone. Kids and adults alike eat well when I serve burrito bowls at gatherings.
These Breakfast Burrito Bowls are topped with a runny sunny-side-up egg and can also be served for lunch or dinner.  This meal is very fitting for my family because we are moving to Dubuque, Iowa, and since my husband is already working there most of the time, I have been serving my kids eggs for dinner at least once a week.   Eggs are so fast to cook, and my kids always eat them up with no problem.  – But for the sake of Cinco de Mayo and Mother's Day coming up this weekend and next, we'll call on this for the easiest and most festive way to serve your mom brunch.
Although the toppings you add to your breakfast burrito bowls might be slightly different from mine,  I suggest that you absolutely squeeze a lime wedge over the top of your burrito bowl for that finishing touch.  I also recommend mixing your burrito bowl with a runny egg or two.  Well, because who doesn't love eggs for brunch?
You probably already know that Mothers Day and Cinco de Mayo is in May.  Did you also know that May is National Egg Month?  These breakfast burrito bowls are fitting to celebrate all three of these things!
Eggs have become the most popular item on my weekly online grocery order this past year.   I serve eggs for breakfast and brunch dishes, but I also serve them for lunch, dinner, and snacks.   My family loves them scrambled, poached, boiled, in breakfast casserole and sunny side up.  We cook them on the stove, and my 7-year-old has even started microwaving his own eggs in a mug for a quick breakfast.   I just feel good about serving eggs to my family.
And I love supporting my great state! Did you know that?
I love that when I am buying my favorite food at the grocery store that I am also probably supporting my local economy!
It feels so great to know that when you're boiling eggs for egg salad, preparing a breakfast casserole, or making a fried egg sandwich for a quick snack you are supporting Iowans!
Not only are burrito bowls a super easy spread to put together for your loved ones this Mother's Day, but in my opinion, cooking eggs sunny side up is the quickest and easiest way to cook eggs!
Looking for more egg recipes? You can find a lot of really delicious looking recipes on the Iowa Egg Council's website, along with with facts about eggs and nutrition information.
You can also find tons of recipe ideas throughout their social media channels.  You can find Iowa Egg on
For me, burrito bowl ingredients usually include rice, corn, beans, salsa, guacamole, greens, and bell pepper.  Although I usually include some spicy seasoning toppings, cheese and sour cream for my family as well.   What is your favorite burrito bowl ingredient?
Breakfast Burrito Bowls
Ingredients
Rice
2

cups

white rice

3.75

cups

water

2

tablespoons

lime juice

1/4

cup

chopped cilantro

1

teaspoon

salt
Burrito Bowl Toppings
1

can

black beans

drained

1

12 ounce bag

frozen corn

1

jar

salsa

1

tub

guacamole

1

bell pepper

chopped

4

cups

fresh spinach or lettuce

1

cup

chopped purple cabbage

1

tub

sour cream or Greek yogurt

1

queso fresca cheese crumbles
Eggs
2

Eggs- per person

1 teaspoon canola oil

salt to taste
Garnishes
chopped cilantro

lime wedges
Instructions
Cook your cilantro-lime rice according to the instructions on the rice you are using. Add lime juice, salt, and cilantro as you are cooking the rice.

Prepare your burrito bowl toppings. Chop vegetables, place salsa, sour cream, and guacamole into bowls. Crumble cheese, drain beans, cook frozen corn.
Cook your eggs sunny side up!
In a pan over medium heat, add a small amount of canola oil.

Crack 1-2 eggs in your pan.

Cook for three minutes or until the white is a little crispy on the edge, and the yolk is still a little runny.
Build your burrito bowls
Let everyone in your group add toppings to their own burrito bowl, top each one with 1-2 cooked eggs.
Time and time again, burrito bowls are always a hit with our friends and family! I love serving a meal where each person can pick their own toppings! Adding eggs to these burrito bowls really added another element! Don't forget to visit the Iowa Egg Council's website and check them out on social media as well!
Happy National Egg Month!