Check out my collection of broccoli salad recipes!
I have been a little obsessed with pre-packaged salad kits lately.  You know the ones.  With a few packets of salad dressing, croutons, dried cranberries, and bacon bits?  YUM.   They are perfect for when I want something good for lunch but don't feel like making anything.   Many of these salad kits I have been picking out contain broccoli slaw.
When I finally came to my senses and decided I needed to make a homemade salad, I came up with the idea to use my vegetable spiralizer to make my broccoli slaw.
Remember my post last year about Things to do with Broccoli Stem? Yes. That came to mind. Let's not be wasteful people.  Don't throw away your broccoli stem.  Make slaw out of it!  It only takes 10 minutes!
I decided that I would use my broccoli stem in a classic broccoli salad, which I can never get enough of.  I cut the broccoli stem off and inserted it in my spiralizer.   Spiralizing broccoli was a bit messier than spiralizing a cucumber or a zucchini, but I was still pleased with the results.   Like this spiralizer?  You can get it on amazon.  I love mine.
I chopped the noodles to make the slaw.
I threw this slaw in a bowl with the broccoli florets and made a fantastic broccoli salad.
Broccoli Stem Slaw and Salad
Prep time:
Total time:
Ingredients
Broccoli florets and stem slaw from 1 large broccoli head
1/8 cup of mayo
1/4 cup of Greek yogurt
1 1/2 tablespoons of honey
Two tablespoons of cider vinegar
1/4 cup of dried cranberries
1/4 cup of dried chickpeas ( or any nut of your choice)
Instructions
Mix broccoli, vinegar, honey, mayo, and greek yogurt together. Add cranberries and chickpeas right before serving.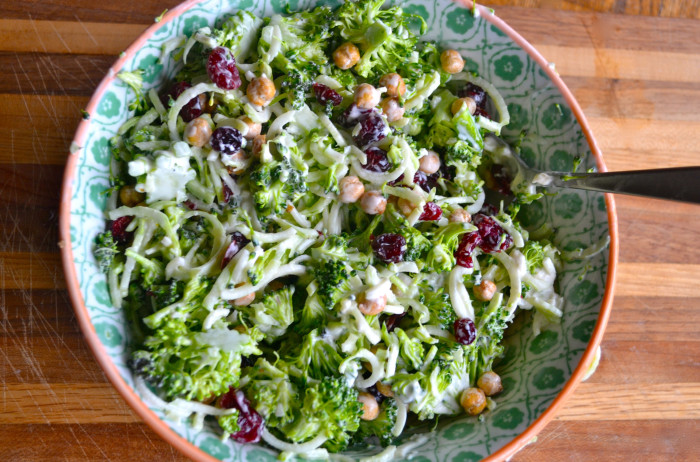 I really can't wait to try it again.  This really couldn't be any easier.