Slow Cooker Pineapple Barbecue Chicken Thighs is an easy recipe to throw together.  It is a great sweet chicken dish that your entire family will love!  All you need is a few ingredients.  Adding your extra pineapple skin on top of the chicken in your slow cooker will help tenderize the chicken and helps seep the pineapple flavor into the dish.  I served these chicken thighs over rice, but I also think this pineapple barbecue chicken would taste great as a taco! 
This summer has been so hot, and we have been so busy that I am hardly grilling at all and using my slow cooker a ton.  Like we are out at the ball diamond 4 nights a week, so it is really nice to come home to a hot meal already made.  This pineapple slow cooker chicken is fun to make because you use the entire pineapple skin. The enzymes pineapple skin tenderizes the meat while cooking, infusing the chicken with the sweet pineapple flavor.
I didn't serve the pineapple skin when I was done cooking with it, but it turns out that many health benefits are from pineapple skin. There are several Health Benefits one can receive from Pineapple Skin is rich in vitamin C, which can build the overall immunity of the body, fight bacteria.  Pineapple skin can also be teeth and bone strengthener, since it is rich in manganese.
Slow Cooker Pineapple Barbecue Chicken
When making this particular dish, you can use canned pineapple if you don't have access to fresh pineapple. However, I strongly recommend you use fresh pineapple.  I am not always a fan of the way canned pineapple gets soggy in the slow cooker.  If you choose to use canned pineapple, I recommend adding the juice to the chicken to the slow cooker and adding the pineapple chunks to the slow cooker a few minutes before serving the dish.
I used chicken thighs in this recipe. In my opinion, chicken thighs produce the most succulent flavor for a low cost.  This recipe will work with chicken breasts as well.  I recommend using the smaller chicken breast tenderloins if you choose to use chicken breast in this recipe.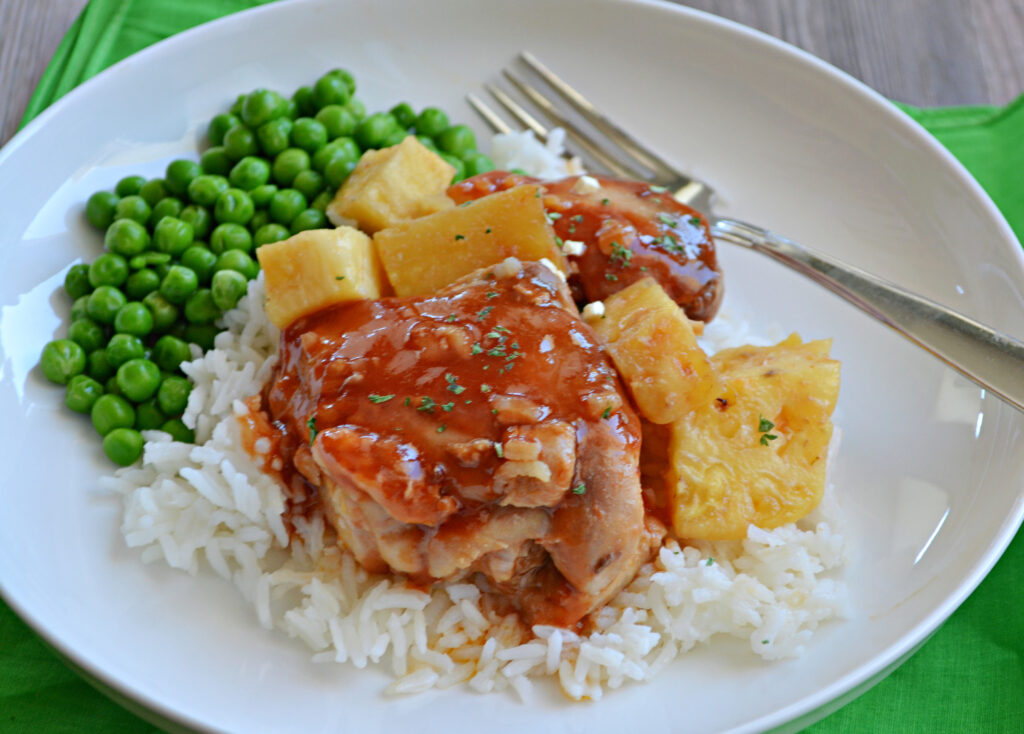 Here is what you need for Slow Cooker Pineapple Barbecue Chicken
10-12 chicken thighs- I always make a large batch. I like to have leftovers
1 Pineapple
1 cup of barbecue sauce
1 tablespoon of sesame oil
1 teaspoon ground ginger
1 teaspoon minced garlic
1 teaspoon of soy sauce
1/3 cup of brown sugar
1 tablespoon of Worcestershire
Ingredients
10-12

chicken thighs

1

pineapple

skin and fruit

1

cup

barbecue sauce

1

tablespoon

sesame oil

1

teaspoon

ground ginger

1

teaspoon

minced garlic

1

teaspoon

soy sauce

1

tablespoon

Worcestershire

1/3

cup

brown sugar
Instructions
Place chicken in the bottom of your slow cooker.

In a medium bowl, mix barbecue sauce, ginger, minced garlic sesame oil, soy sauce, Worcestershire sauce, and brown sugar

Pour the sauce over the chicken thighs.

Cut the skin in long pieces off your pineapple. Set the skin pieces aside.

Core the pineapple, and cut the rest of the pineapple into large chunks.

Place the large chunks on top of the chicken, followed by the pineapple skin. Make sure you place the pineapple skin "flesh down" on top of the chicken.

Cook on low for 6 hours or on high for 4 hours.

When you are ready to serve the chicken, remove the pineapple skin and discard it. Add some pineapple chunks to your chicken thighs with a little sauce and serve.
Recipe Notes
If you want your extra sauce to be "sticky," remove the sauce from the slow once the chicken is done cooking.  Add some cornstarch to it and whisk it in a saucepan on the stove until sticky.  Add the sauce back over the chicken. 
Make sure your pineapple chunks are on top of the chicken.  The pineapple will taste better if it isn't submerged in the sauce. 
This meal was excellent!  My kids love meals that have a little extra sweetness.  This Pineapple Barbecue Chicken tastes great over rice, as a taco, or alongside a salad or a potato.  This is an easy weeknight dinner you can make year-round that everyone in your family will love!