This Post is sponsored by Hy-vee and Reach orb, now Pharris Media.  All Opinions are my own. 
Mom will feel so loved when you give her a homemade brunch box containing all her favorite breakfast items!  In my family, we like gifting each other consumables.  Hy-vee has a huge selection of gourmet food items, fresh produce, local products, and home goods that make great gifts!  You can give this brunch box to your mom if you live with her.  Or you can drop off this box with her on Mother's Day.   If your mom doesn't live in the same area as you, you can choose non-perishable brunch items and send them through the mail.   
In my family, immediate and extended, we often gift each other consumables and food items.   I think, as a whole, my family tries to keep excess stuff from cluttering our lives. Plus, I have a lot of people in my family who appreciate good food. 
There are tons of gourmet food baskets and subscription boxes you can order online, but they are often costly and only have a few things.  I got this cool idea to put together a personalized Mother's Day brunch box for mom.  I find that Hyvee has many high-end gourmet food items that also make great gifts!  I went shopping at Hyvee, picked up several items, and made the ultimate Mother's day Brunch Box.
How to make a Mother's Day Brunch Box:
Find a cute gift box.  It can be a shipping box or a shoebox. 

Head over, Hyvee, and pick your mom's favorite brunch and breakfast items.  You can also

browse items online.

 

Fill the bottom of the box with tissue paper, and arrange all of the items to look cute!
You will want to time your shopping trip so that everything is fresh when you gift this to your mom.

You can also choose nonperishable brunch items and send this to your mom in the mail if she does not live nearby.

If you head over to Hyvee's website,

you can browse online for Mother's day items to include in your Brunch Box.
You should also consider including a Hyvee Plus Membership with her gift.   
*You can gift membership by purchasing a $99.00 gift card for the recipient. Mom will receive a  three-cent fuel-saving reward on every qualifying purchase and will receive free delivery on Hyvee aisles online orders that exceed $30.00.  A Hyvee plus membership also receives special perks such as exclusive offers and bonus savings. 
Here is a list of items I included in my Brunch Box
Fresh Fruit from the produce aisle – Strawberries, grapes, kiwi, mandarin oranges, and bananas. 
Freshly Baked Items from Hyvee's Bakery- mini cherry danishes and croissants.
Jam- Hyvee has a large variety of  jams
Local Coffee
English Breakfast Tea
Honey 
Chocolate- If your local Hyvee has a Health market, you will find various gourmet chocolates and several delicious-looking items in the bulk foods aisle. 
Cheese- Hyvee has an excellent selection of specialty cheeses that make an excellent addition to any brunch.
A Kitchen Towel- Many Hyvee stores have kitchen gadgets that will round out the mothers day gift box. 

Make sure to include your mom's favorite breakfast and brunch items
A few more ideas of items you can include:
Maple Syrup
Cereal
Pancake or Muffin Mix
Champaign 
Juice
a Coffee Mug
Hot Chocolate Mix
Flowers
Mother Day Card
Head over to Hy-vee's website to view more items available for Mothers Day.
Get The Kids Involved
This is a fun gift idea that you can have your kids help with.  Bring them to Hyvee to help you select items for this box.  They might also want to make a cute card to include with the brunch items.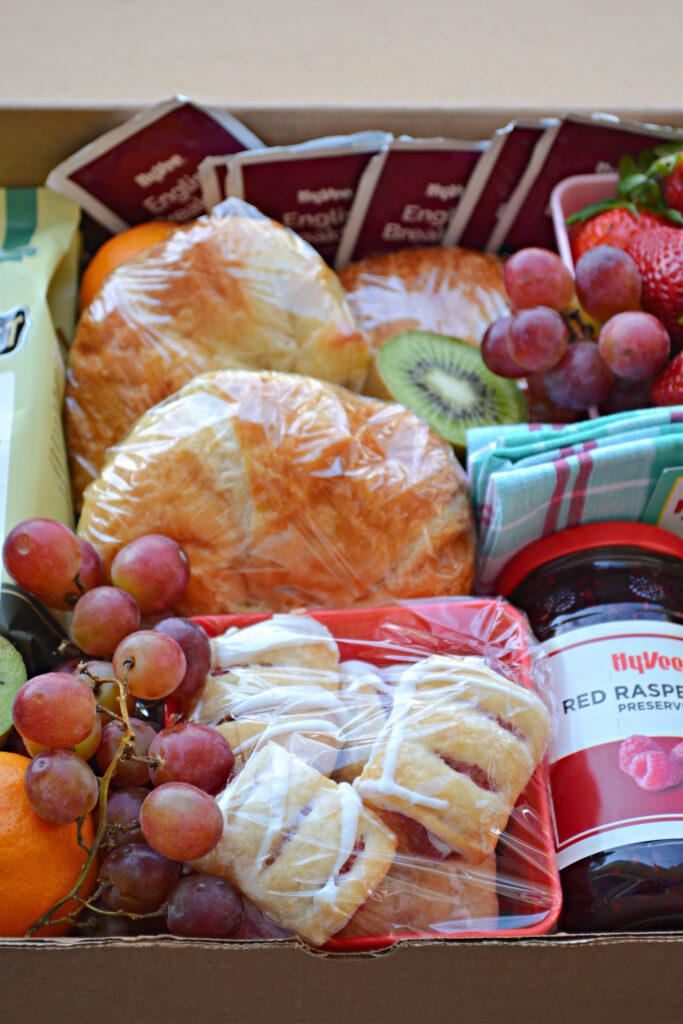 As a mom, I love it when my kids make me breakfast in bed!  Most moms work 24 hours daily and deserve to be pampered on Mother's day!  A delicious breakfast and a little relaxation is the ultimate Mother's day gift!
Don't forget to head over to Hy-vee's website to find items you know your mom will love!