Boneless Barbecue Pork Chop Sandwiches is my favorite Midwestern dish.  You can cook 10 -12 Boneless Pork Chops, cook up fast in your Instant Pot with only a few other ingredients, and serve dinner to a crowd in under an hour.  This bbq sauce pork recipe is perfect for families because you will have enough leftovers for lunch the next day.  These are sweet, smoky, and the definition of Midwestern perfection on a bun.  Once you learn how to pressure cook meals for a crowd, you will never go back!  
When you cook up these pork chops for barbecue pork chop sandwiches in your Instant pot and achieve absolute tenderness with a low cooking time, you will always want to make these!  Pork Chop Sandwiches are a classic in the Midwest and a crowd pleaser!  My kids love this recipe, and I love serving this recipe at parties. This is the only instant pot bbq pork chops recipe you need!
I add Worcestershire sauce and Apple Cider Vinegar to these Barbecue sandwiches, and the flavor combo can't be beaten!  I like to cook these in my Instant pot then use my slow cooker as a serving vessel. If you are cooking for a larger crowd, you can easily make several batches of these!
This recipe is so easy, simple, and delicious!  I have many friends who are always trying to find new recipes for thin pork chops.  These cook up so fast. They are so simple, yet delicious!  You will want to use the sauté function and saute the onions in olive oil at the bottom of the pot before adding the rest of the ingredients for pressure cooking.   These Instant pot pork chops are so good!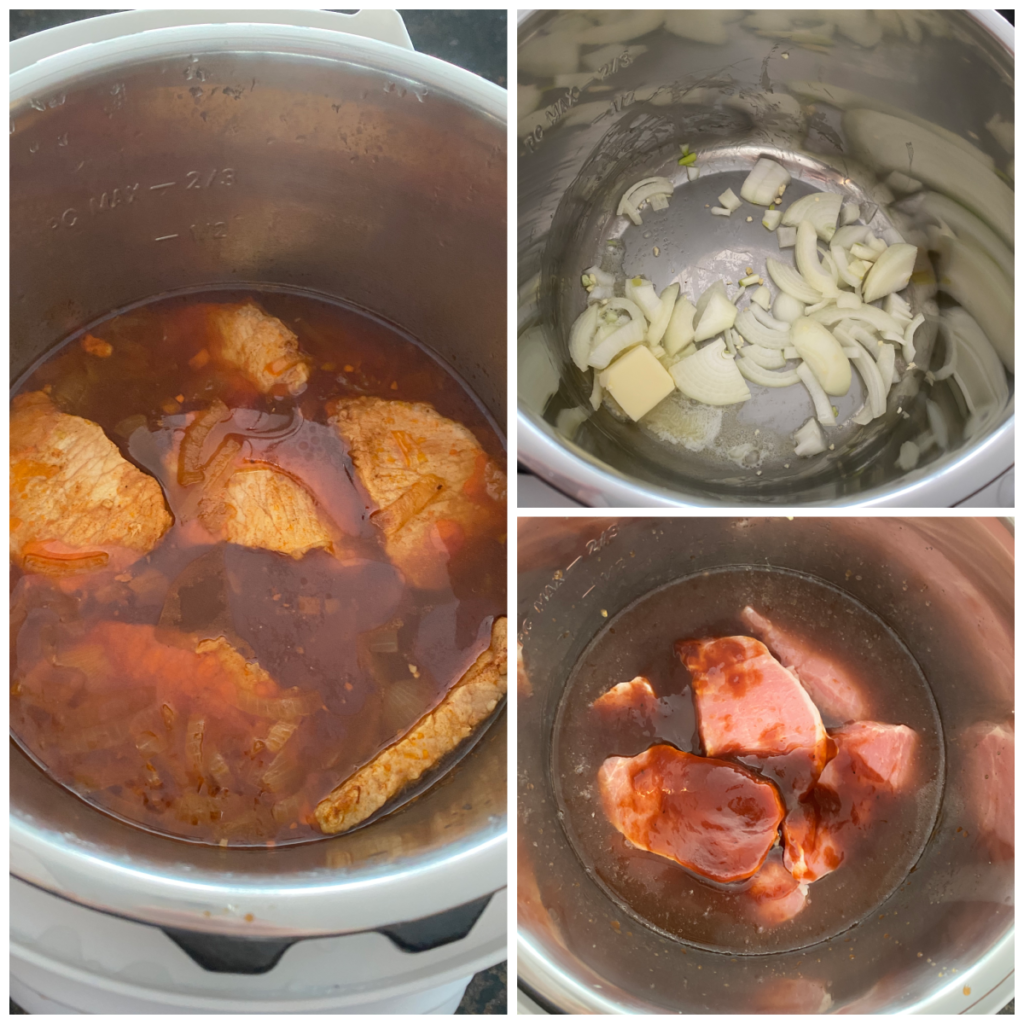 After getting used to your electric pressure cooker, you will want to take advantage of the saute function.  I like to use the saute function to saute onions in a savory dish.
This recipe is super easy.  All you need is:
1 tablespoon of butter
1 small onion. You could also use onion powder or dried onion if you don't have any
2 cloves of minced garlic you could also use garlic powder
10 1-inch boneless pork chops
1 cup of barbecue sauce
1 cup of water
1/2 cup packed light brown sugar
One tablespoon Worcestershire sauce
One tablespoon of apple cider vinegar.
Optional ingredients: You could enhance the flavor just a little by adding paprika or black pepper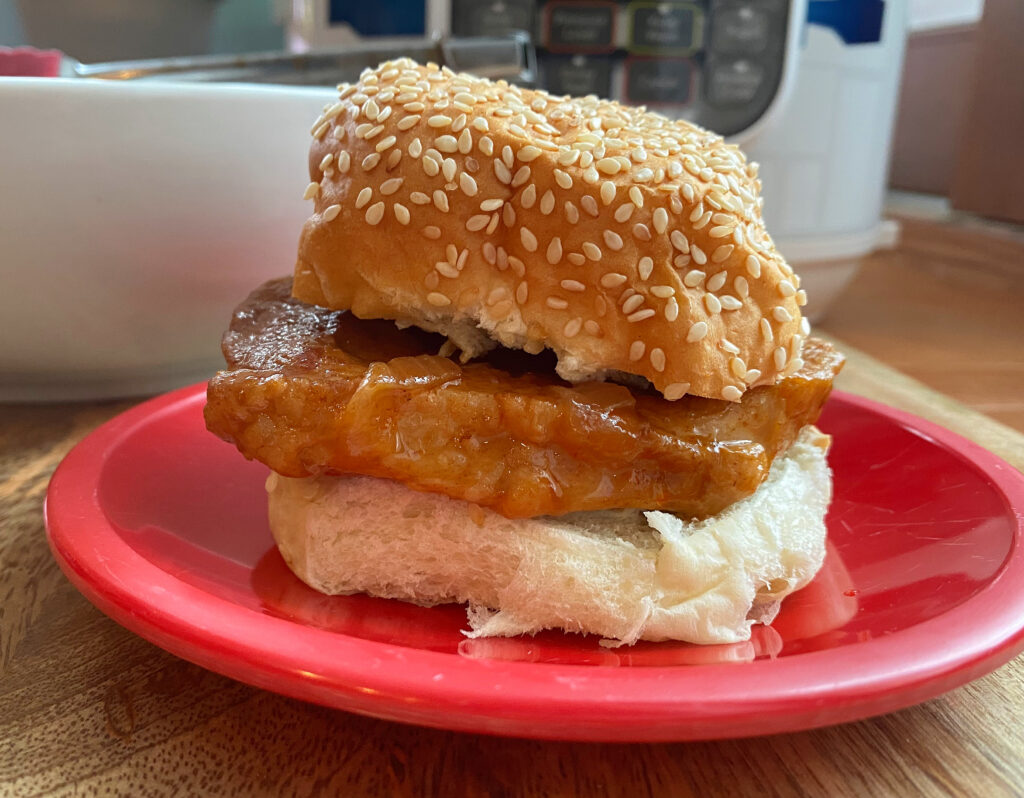 Build your pork sandwiches with the following components. 
Hamburger buns
lettuce
sliced tomatoes
yellow mustard
sliced pickles
coleslaw
All you need to do to make this mouthwatering recipe is:
Select the saute function
Add butter, onion, and garlic and saute for 2 minutes with a wooden spoon until onions are translucent.
Add pork chops, barbecue sauce, water, brown sugar, Worchestershire sauce, and vinegar.
Secure the lid. Move the pressure release valve to "sealing" and cook on high pressure for 20 minutes, then allow the pressure to release for at least 10 minutes naturally.
Let your electric pressure cooker naturally release for 10 minutes before removing the pressure.
Set out buns and fixings and let your family assemble their sandwiches.
This recipe yields 10-12 sandwiches.
Note: You may choose to put these pork chops under the broiler for a few minutes on a baking sheet if you want to crisp them up!
If you like this recipe, you should also check out my other Instant Pot Pork Recipes.  I have many delicious recipes such as instant pot pulled pork that call for pork loin, pork roast, pork shoulder, and other delicious cuts of pork.  I have tons of cooked pulled pork recipes on this site too!
Recipe Note:  This recipe is meant for boneless pork chops.  You can try it with bone-in pork chops, but I would remove the bone before building your sandwich.
Side Dishes
Blueberry Lemon Broccoli Salad 
If you make this recipe, I would love to know how you liked it!  Please comment below or tag me on social media and tell me how you liked it!  You can find me on Facebook, Instagram, Twitter, and Pinterest.