This post may contain affiliate links 
Right now, I am taking a back-to-basics approach to cooking.  I plan on sharing with you some of my favorite simple recipes.  Some of the recipes that I make during my day-to-day life are mundane, but I can rely on them to be delicious every time I make them.   I started making oven-roasted potatoes when I was in my early twenties.  I was 23 when I got married.  That year, my husband and I put ourselves on a strict budget.  I started making oven potatoes instead of buying packages of frozen french fries.  It was much cheaper, now I just prefer them.
These oven-baked Greek Potatoes are crispy on the outside but taste buttery on the inside.  They are seasoned perfectly.
These Potatoes taste wonderful with Tzatziki sauce for dipping.  Check out 25 recipes that taste amazing with Tzatziki sauce! 
Here is what you need for these perfect Oven-Baked Greek Potatoes
2 pounds of Yukon Gold Potatoes
Olive Oil 
Dried Dill 
Sea Salt
Lemon juice 
A Sheet Pan
Parchment Paper 
And that's it!
In order to make these Potatoes as crispy as possible, there are three important steps that you need to follow.
Cook them at 400 degrees
 After you cut the potatoes, you will need to soak them in water, then dry them before you put them on the sheet pan to cook them.  This removes excess starch and will help them crisp up. I usually use paper towels to try the potatoes after they have been soaking.
I recommend placing a sheet of parchment paper on your sheet pan.  This keeps the potatoes from sticking to your sheet pan.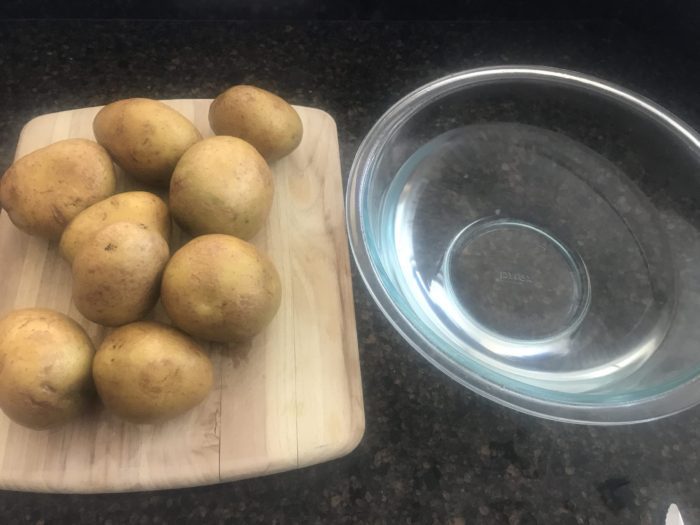 Ingredients
2

pounds

yukon gold potaotes

5

tablespoons

olive oil

1-2

tablespoons

Greek seasoning

see above for the brand I use

1

tablespoon

dried dill

3

tablespoons

lemon juice

1

tablespoon

sea salt
Instructions
Preheat oven to 400 degrees f

Wash the yukon Gold potatoes.

Cut each potato half, then into wedges.

Place the potatoes in a bowl of water. Let them sit for 10-15 minutes.

Dry the potatoes with a towel or paper towels.

Place a piece of parchment paper on your sheet pan.

Spread the potatoes on the sheet pan. drizzle with olive oil, lemon juice, and seasonings.

Cook them in the oven for 30-40 minutes. Until their crispiness meets your preference. You will want to stir the potatoes about half way through the cooking process
These Greek potatoes make an excellent side dish for any meal, not just Greek-themed meals.  My family especially loves them with hamburgers.
I would also recommend these perfect Greek potatoes with my slow cooker chicken gyros or my Instant Pot ground beef gyros.
if you like this side dish, you might also like my Greek broccoli salad.