Marinating chicken in a bottle of Italian salad dressing produces fantastic results!  The flavors of bottled Italian dressing taste delicious with chicken!   These Instant Pot Italian dressing chicken thighs are delicious!  I made this entire meal all in one pot in under 30 minutes.  Your family will love this super easy, hands-off weeknight dinner!  Making a pan of this one-pot Italian chicken will please everyone!
I realized that there are two types of cooks out there—the folks who meal plan and shop for ingredients based on recipes they find.   And the people like me, who like to turn pantry items into meals 30 minutes before it's time to eat.
This meal is super easy to make, and you can make it all in one pot with only four ingredients.  You can marinate your chicken in the Italian salad dressing if you have time.  Or you can add the salad dressing to your meal as you're cooking.  It will turn out delicious either way.  Italian salad dressing makes the most delightful chicken marinade! It's sweet, zesty,  and garlicky.  Plus, all you need to do is open the bottle.  Italian salad dressing also tastes terrific with potatoes and carrots.
All you need is:
Six chicken thighs – about 1 pound
5 Yukon gold potatoes washed and quartered
One bag of baby carrots
One bottle of Italian salad dressing.
An Instant Pot or Electric pressure cooker
A vegetable steamer or trivet
And that's it!
Optional Ingredients: garlic, olive oil, Italian seasoning, tomatoes, lemon juice, red pepper flakes, or garlic powder would taste great added to the Italian dressing chicken marinade.   This chicken tastes great if you sprinkle a little parmesan cheese on top.
Recipe Note:  You can make this recipe with chicken breasts instead of thighs.  You will want to adjust your cooking time based on the size of the chicken breasts.  You can also use this recipe and bake it in the oven.
I used the saute function in my Instant pot to make this Italian chicken and the potatoes crispy.  You can also finish the chicken thighs off on the grill or in the oven using the broiler.
I chose potatoes ad carrots for this meal because the cooking time is conducive to the chicken thighs and the carrots and potatoes.  I layered the food in my Instant Pot's inner pot with a vegetable steamer, but you can also use the trivet that came with your Instant Pot.
I used the saute function twice when cooking this meal.  I first browned the chicken thighs for 1 minute on each side before cooking them.    When the pressure cooking process was all done, I took the food out and sauteed the potatoes to make them slightly crispy.  I love minimal dishes, especially on weeknights!  As per the instructions. You will want to saute the meal after it has been pressure cooked.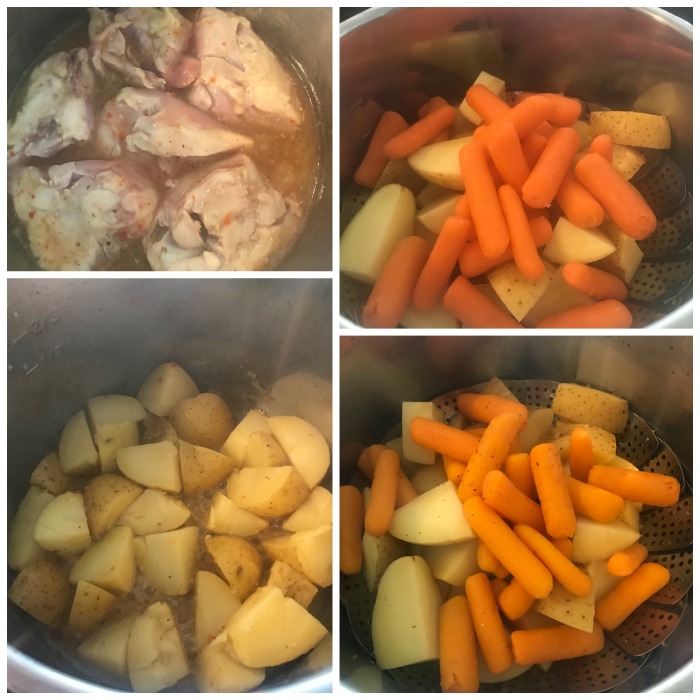 *Please note- I didn't use this entire bottle with this recipe.  This is a gigantic bottle of Italian salad dressing.  You will need a 16-ounce bottle of salad dressing for this recipe.
Chicken is considered safe to eat once it has reached an internal temperature of 165 degrees Fahrenheit.  Please use a meat thermometer to ensure your chicken is cooked enough for dining.
Storage
If you have leftovers or you are making this for meal prep lunches, you can store this meal in an airtight container in the refrigerator for up to five days, or you can keep it in an airtight container or freezer bag for up to three months.
Instant Pot Italian Dressing Chicken Thighs
Ingredients
1

pound

chicken thighs

about 6 thighs

1

16 ounce bottle

Italian salad dressing

5

Yukon Gold Potatoes

washed and quartered

2

cups

baby carrots
Instructions
Set your Instant Pot to the saute setting. Add 1/2 cup of Italian salad dressing. and Chicken thighs. Saute chicken thighs for 1 minute on each side. Don't cook them all the way through, just brown them.

Add 1/2 cup of Italian dressing once the thighs are browned Hit cancel to stop the heat.

Place the vegetable steamer on top of the chicken. Place the potatoes and the carrots in the vegetable steamer.

Close and lock the Instant Pot lid. Set the valve to "sealing"

Cook on high pressure for 15 minutes. Quick Release Pressure.

Remove potatoes, carrots, and chicken, from the pot and arrange them on a serving dish. discard cooking juices.

If you want your potatoes to be crispy. Hit the saute button, and cook the potatoes with 1/4 cup of Italian dressing until they get browned. Glaze additional Italian dressing over the chicken if you desire. Serve
Here are some side dishes that taste great with this dinner!
Blueberry Lemon Broccoli Salad 
This meal is simple, delicious, nutritious, and full of protein! If you made this Italian baked chicken thighs dinner, I would love to hear how it turned out for you!  Please comment below or tag me on social media and know-how this worked out for you!  You can find me on Instagram, Facebook, Twitter, Pinterest, or TikTok.