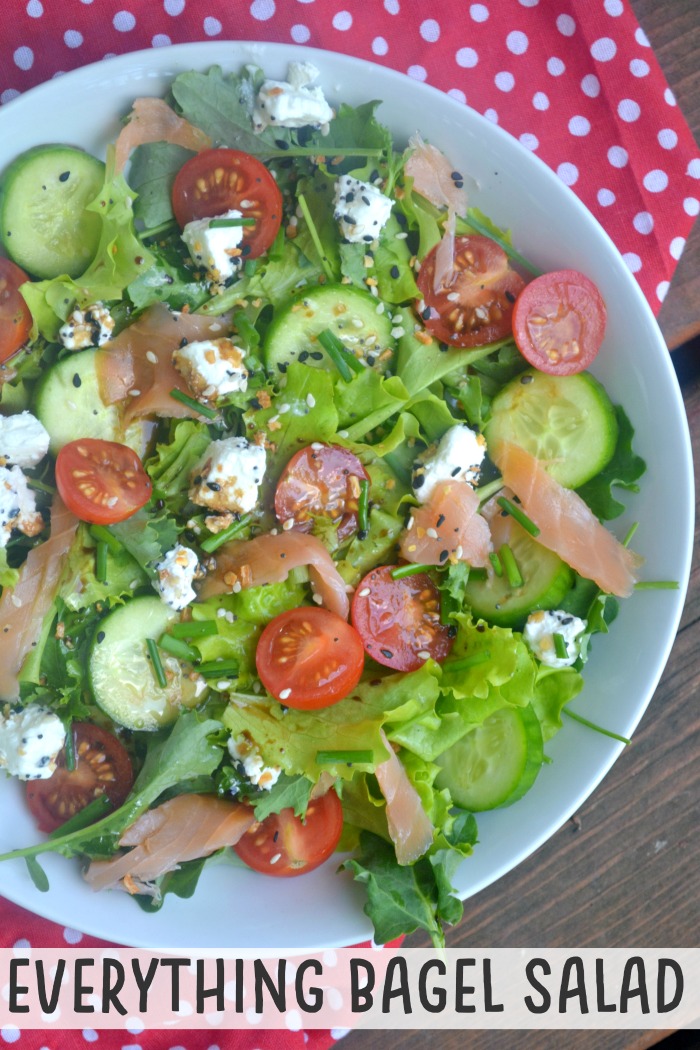 This post contains affiliate links
We have some pretty amazing restaurants here in Cedar Falls, Iowa.  We have an excellent cupcake shop, yummy pizza, a few great breweries, and a few higher-end restaurants with delicious food.
One thing I miss about Chicagoland is bagels.  Real bagels. That is chewy on the inside and crispy on the outside.  Bagels that are covered in poppy seeds and onion.  There is a Jewish deli close to where my parents live, and a few times a year, when I am home, my dad will pick up some bagels for me with some liver pate or some smoked salmon.  It's just something that I can't get here in Iowa.
I live in an area without a Trader Joe's, but recently, a Trader Joe's opened up in Iowa City, which isn't too far.  I picked up some Everything bagel seasoning. I am officially putting it on everything I eat.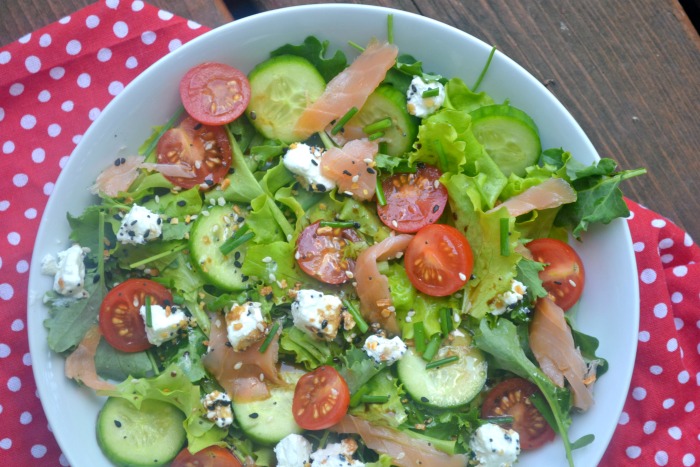 I have been trying to eat healthier lately, which means more vegetables and protein and fewer carbs.  This salad is filled with foods that I love. Goat cheese sprinkled with everything bagel seasoning, chives, tomatoes, and smoked salmon. Yum.
You could go several different ways with what kind of dressing to use in this salad, but I settled with a simple balsamic vinaigrette.  I thought about adding bagel chips to this salad, but decided against it because I am trying to cut back right now.
Right now, our garden beds are filled with lettuce, and I love heading outside to cut fresh lettuce for salads.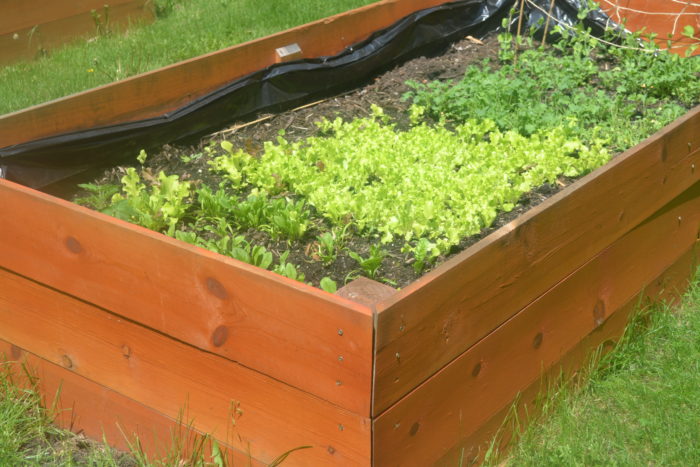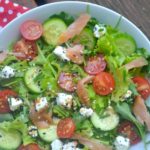 Everything Bagel Salad
Ingredients
2-3

cups

lettuce

1/2

cup

tomato

1

slice

smoked salmon

1-2

tablespoons

goat cheese

1/4

cup

sliced English cucumber

1

tablespoon

everything bagel seasoning
balsamic vinaigrette for one.
1

teaspoon

balsamic vinegar

1

teaspoon

olive oil
Instructions
Make balsamic vinaigrette. Mix balsamic vinegar with olive oil and whisk together. Set aside.

Arrange lettuce, tomato, cucumber and smoked salmon in a bowl.

Cut goat cheese into little balls. Roll each piece of goat cheese in some everything bagel seasoning and arrange the seasoning covered goat cheese on the salad.

Cut chives and sprinkle them on the salad.

Drizzle balsamic vinaigrette over the salad.