This post may contain affiliate links 
Hello from whole 30,  day sixteen!  One of my favorite parts about the Whole 30 program, is planning and looking forward to trying new recipes.   I am at the point where I am not super hungry between meals because I am getting enough protein, and I am sure that my body isn't craving sugar anymore.  The first week my food thoughts were flooded with " What am I going to eat first at the end of this."  And now I feel so fantastic, and I am not sure I will.
I might have mentioned this in my previous post, but can I tell you again how amazing the sleep is when you're on Whole 30?  I have not slept this well in my entire adult life!  Is it the lack of sugar? The increased intake of vegetables?  I have no idea, but I'll take it!
One of my favorite summer treats is a Bacon, Lettuce, Tomato Sandwich. I thought that it would be good to make a chicken salad lettuce wrap that tasted like one.   I sometimes make my chicken salad out of this canned chicken
, but If I happen to have leftover rotisserie chicken or leftover chicken breast in my fridge, I prefer to use that.
Mayonnaise isn't restricted on Whole 30, but It important that I don't over mayonnaise.  However, in this chicken salad, it is good and helps this taste like a real BLT.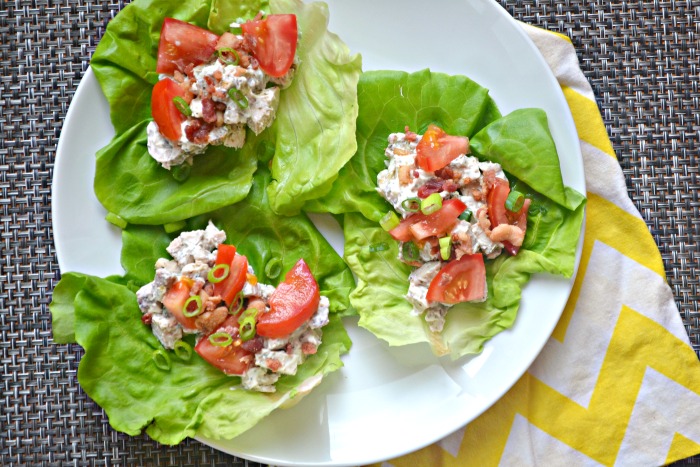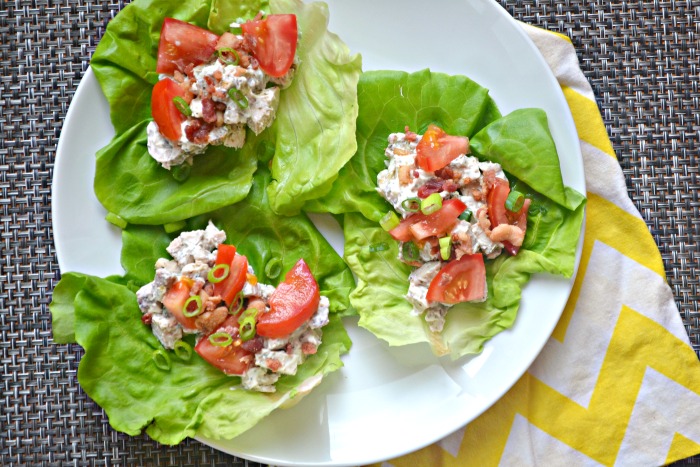 Bacon Lettuce Tomato Chicken Salad Lettuce Cups
Ingredients
2

cups

leftover chicken or canned chicken

1/3

cup

mayonnaise

1

ripe tomato

2

tablespoons

real bacon bits

you can use more if you like

10

butter lettuce leaves

You can also use romaine

1

chopped scallion

salt and pepper to taste
Instructions
In a bowl, cut up your leftover chicken to the appropriate size. Mix in mayonnaise, salt, pepper, and bacon bits.

Cut up tomatoes. You can add the tomatoes to the chicken salad or as a topping on the lettuce wrap.

Wash the lettuce leaves, and dry them.

Place a scoop of the chicken salad on each lettuce wrap. Top with tomato slices and chopped scallions.
This was a delicious lunch!  I will most certainly be making chicken salad for lunch again.  Maybe I will come up with another whole30 approved chicken salad recipe, I am sure there are a lot of variations of chicken salad that are Whole 30 approved!
If you don't have butter lettuce or romaine lettuce available for lettuce wraps, bell pepper slices, cucumbers, or celery will also make great whole 30 compliant chicken salad vessels!
This was sweet, salty, crunchy and so delicious!  Being on Whole 30 never tasted so good!