This shop has been compensated by Inmar Intelligence and Hormel Foods. All opinions are mine alone. #CookingwithHormel​
If you're looking for a quick meal, there's no need to call for take-out!  You can whip up these pork teriyaki lettuce wraps in a matter of minutes!  This budget-friendly dinner is made from sweet, succulent HORMEL® CULINARY CUTS® Teriyaki Pork Cubes​.  Your entire family will love this nourishing, filling, and budget-friendly meal! 
Cooking is my passion, creative outlet, and I love cooking nourishing meals for my family.  But if I can make a wholesome, delicious meal all while using as few dishes as possible and also taking a few shortcuts, I totally will.  Cooking real-food meals for my family is important to me, but this does NOT mean you need to cook all day.
When friends ask for advice on cooking easy weeknight dinner for their families, I tell them to keep fresh ingredients that they like stocked in their fridge, and cooking up quick meals will be easy.  You can always use what you have to make casseroles, tacos, sandwiches, or lettuce wraps!
These delicious teriyaki pork lettuce wraps were a huge hit with my family!  My husband and I love lettuce wraps.  The kids love white sticky rice, and we all loved this perfectly tender sweet teriyaki pork that cooked up in no time!
I picked up these HORMEL® CULINARY CUTS® Teriyaki Pork Cubes at Target.
I located the HORMEL® CULINARY CUTS® and the HORMEL® CULINARY PAIRINGS® in the fresh pork section at Super Target. Ending October 24, 2020, get 30% off HORMEL® ALWAYS TENDER® CULINARY COOKERS™​, CULINARY CUTS® ​, and CULINARY PAIRINGS® at Target.
CULINARY CUTS®​ meats from Hormel Foods are a great product to check out if you're looking for easy dinner solutions for your family!   These are chef-inspired and are simple to prepare.  All the prep, the marinating, and cutting is already done for you!  All you need to do is cook the meat and add it to your favorite meal! The meat turns out tender and perfectly seasoned!
I like adding rice to lettuce wraps when I cook them for a meal.  I enjoy my lettuce wraps with just meat and vegetables, but I want to make sure that my kids are getting enough substance with their meal.   I cooked up these HORMEL® CULINARY CUTS®​ Teriyaki Pork Cubes in a saucepan over medium heat.   I also think that they would cook up well in a slow cooker.
For more information on where to find HORMEL® CULINARY CUTS®​ products, visit their website.   You can also check out more recipe ideas using these products on their social media handles. You can find them on: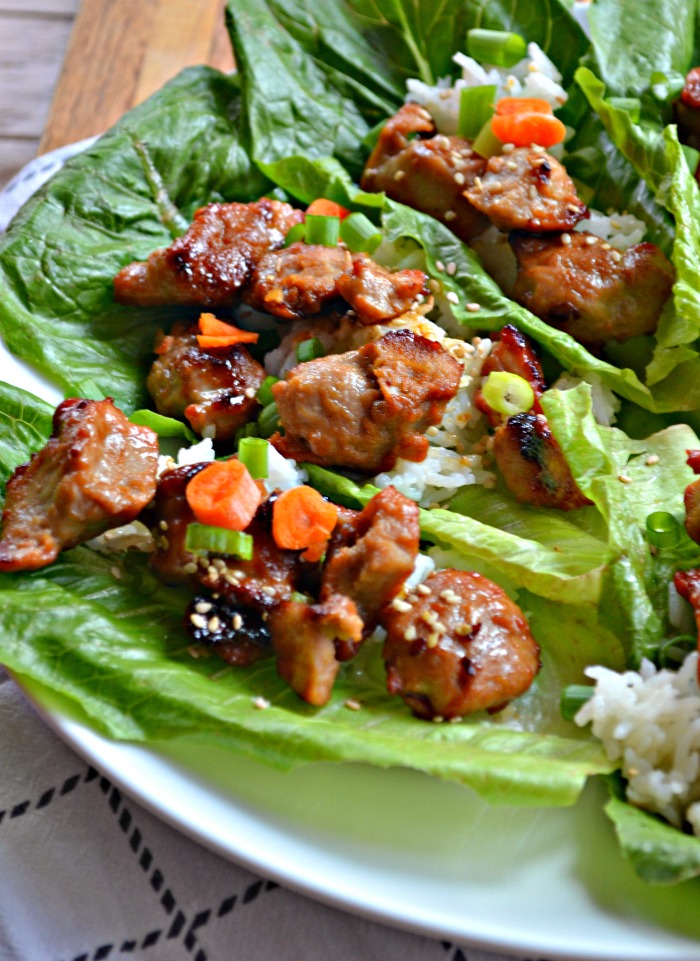 These lettuce wraps are super easy to prepare!  All you need is:
HORMEL® CULINARY CUTS®​ Teriyaki Pork Cubes
2 cups of jasmine rice
romaine lettuce leaves washed and dried
carrots
scallions
sesame seeds
And that's it!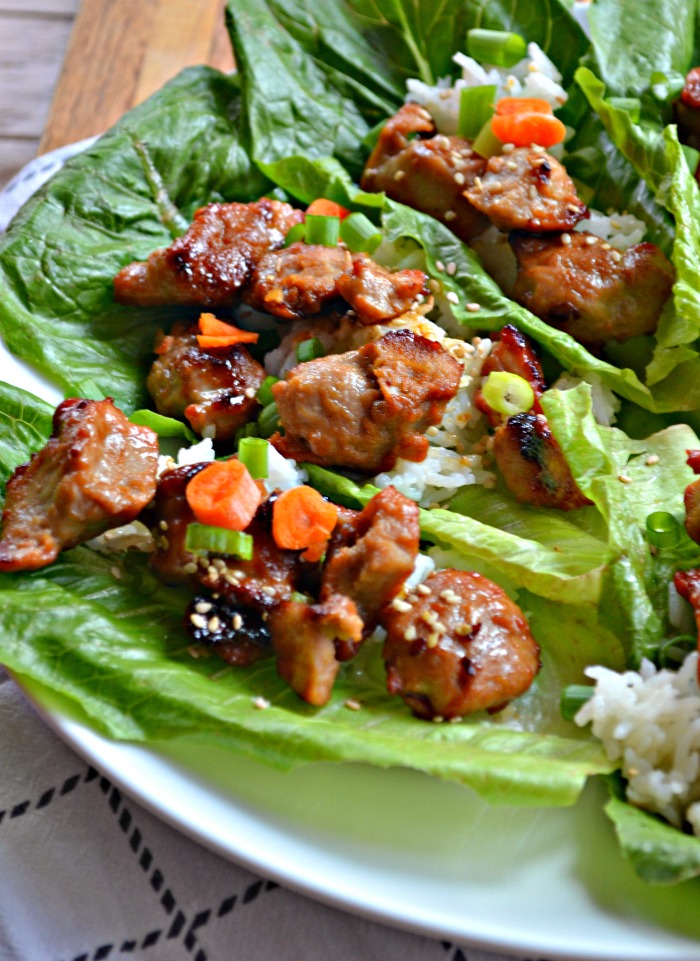 Teriyaki Pork Lettuce Wraps
Ingredients
16

ounces

HORMEL® CULINARY CUTS® Teriyaki Pork Cubes

2

cups

cooked jasmine rice

1/2

cup

chopped carrots

1/4

cup

chopped scallions

1

tablespoon

sesame seeds

1

head

romaine lettuce leaves

washed and dried
Instructions
Place pork in a saucepan over medium heat.

Stir while it cooks, for about 10 minutes. Remove from heat. sprinkle sesame seeds over pork.

While your pork is cooking, cook white rice.

Prepare vegetables. Wash and dry romaine lettuce leaves. cut carrots and scallions.

Build your lettuce wrap. Place 1/4 cup of pork on a piece of lettuce. top it with a heaping scoop of white rice, carrots, and scallions.
This was such a good dinner!  I am getting hungry now just thinking about them!