Today's post is sponsored by the Iowa Egg Council.  All opinions are entirely my own
Pasta Primavera is such a great dinner!  It is a great way to use up all those vegetables you have in your fridge, and merely adding eggs make this a protein-rich supper that your whole family will love! 
The week before school, I decided to sit down and figure out some dinner meal prep solutions for this fall when I realized something.
Eggs are the most inexpensive protein, the only protein that my kids always eat with no complaints, and no matter how you prepare eggs, they are also the fastest protein to cook.   So then I got to brainstorming about how I could incorporate eggs into some of my family's favorite suppertime meals.
I introduce to you to eggs benedict pasta primavera!  My favorite pasta dish with a poached egg and creamy, protein-filled hollandaise sauce.  Don't forget to add as many vegetables as possible!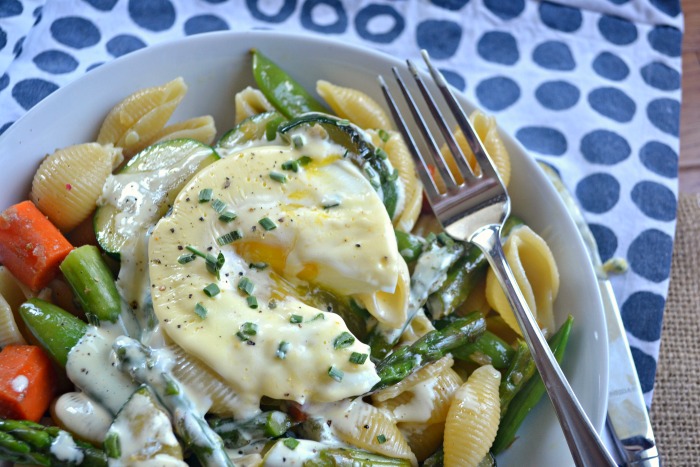 There are so many reasons why serving eggs for dinner is a great idea!  In addition to being inexpensive and well-liked by my children, eggs are also nutrient-dense and loaded with vitamins and minerals, all while being very few calories.   Eggs contain all nine amino acids, are gluten-free, and have no added sugars or carbs.  Serving your family eggs for dinner is a great way to serve a nutrient-dense meal.
Did you know that Iowa egg farmers lead the nation in egg production?  Iowa's egg farmers product over 16 billion eggs per year that are 1 out of every six eggs in the United States!
You can find many delicious dinner recipes using eggs at Dishoneggs.com and the Iowa Egg Council's website.  You can also visit the Iowa Egg Council on their social media channels for tons of delicious ideas!  You can find them on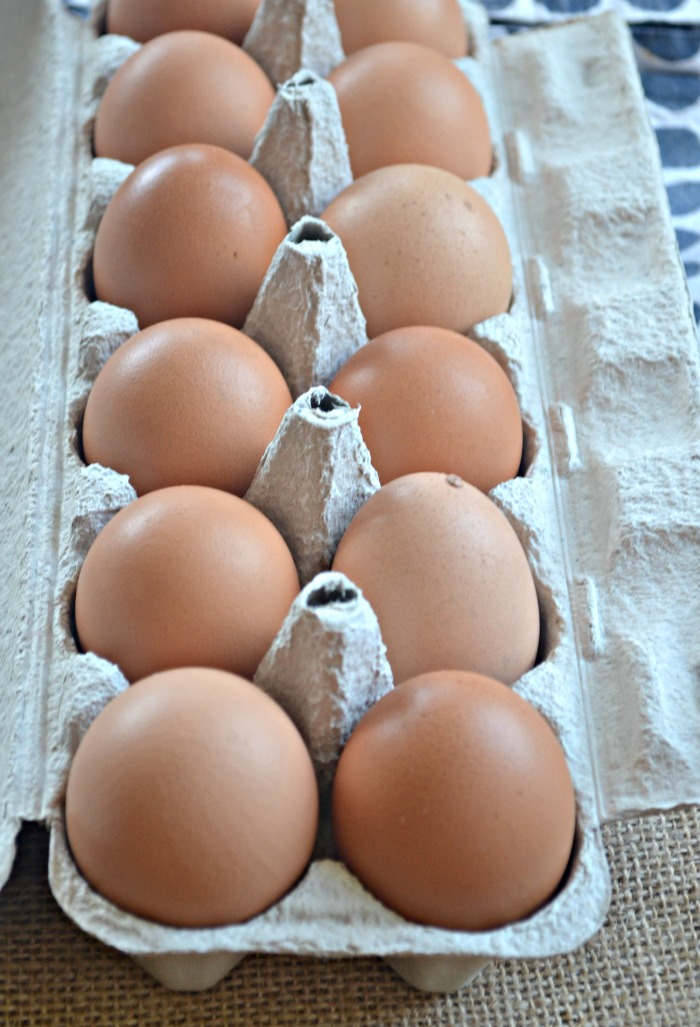 Eggs benedict might seem like a fancy brunch dish, but it is an easy recipe you can make at home!  Your family will love the rich, creamy hollandaise sauce, and it will taste excellent with your pasta primavera!  I made a smooth blender hollandaise sauce using egg yolks.  It was so creamy and delicious!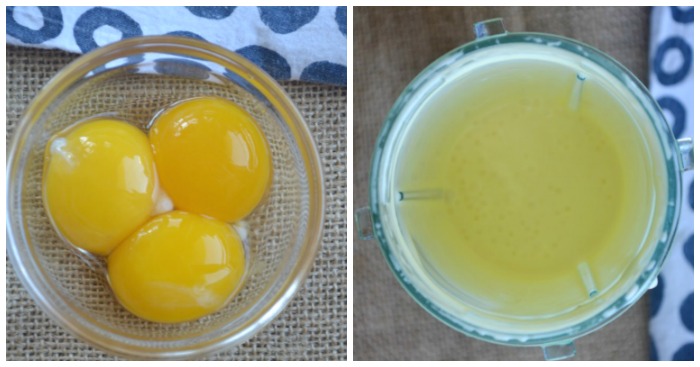 What You Need to make Hollandaise Sauce 
a blender
egg yolks
butter
salt
lemon juice
I made my Hollandaise Sauce in the blender.  I simply added all of the above ingredients together and blended them until my sauce was smooth.
Can I add Different Vegetables to Pasta Primavera than those here?
Pasta Primavera is a versatile recipe. Peas, broccoli, onion, spinach, bell pepper, cauliflower or eggplant would also taste excellent in this recipe.   You could also add Canadian bacon if you wanted your dish to be more like traditional eggs benedict.  This pasta can be made ahead and stored in the fridge.
In Italian, Primavera means spring.  Pasta Primavera was a dish to celebrate " All things fresh"  You can add any vegetable you like to yours and what better way to celebrate all things fresh than to add fresh Iowa Eggs!
How to I cook eggs for Eggs Benedict?
Eggs benedict calls for poached eggs.
Bring a pan of water to a simmer
Tip an egg into the pan
Cook egg for 2 minutes, then turn off the heat and leave the egg in the water for 5-10 minutes
Lift the egg out of the water with a spoon, and set it on a paper towel to drain.
Pasta Primavera Eggs Benedict
Ingredients
2

whole

carrots, sliced

1

zucchini

sliced

1

8 ounce bag

sugar snap peas

1

8 ounce bunch

asparagus

1

small

onion, chopped

2

tablespoons

olive oil

1

tablespoon

lemon juice

2-3

cloves

minced garlic

1

pound

pasta
Blender Hollandaise Sauce
1/2

cup

butter

1/4

teaspoon

Dijon mustard

1

tablespoon

lemon juice

1

pinch

salt
Instructions
Cook your pasta according to the instructions on the box and set aside.

Pour one teaspoon of olive oil into a pan. Add onions and garlic. Cook over medium heat until onions and garlic are translucent.

Add the rest of the vegetables and cook until they're a texture of your liking.

Add the vegetables to the pasta. Add lemon juice and toss everything together. Set aside.
Poach Eggs
Bring a pan of water to a simmer.

Tip an egg (s) into the pan.

Cook egg for 2 minutes, then turn off the heat and leave the egg in the water for 5-10 minutes.

Lift the egg out of the water with a spoon, and set it on a paper towel to drain.
Make Hollandaise Sauce
In the blender, combine the egg yolks, mustard, and lemon juice. Cover, and blend for about 5 seconds.

Set the blender on high speed, and pour the butter into the egg yolk mixture in a thin stream. It should thicken almost immediately.
Assemble your dish
Add Veggies and pasta to each dish.

Drizzle with hollandaise sauce