There are so many reasons to make this delicious  Honey Mustard Ritz Cracker Salmon!  It's sweet. It only calls for a few ingredients.  It cooks up in less than 15 minutes, and it is absolutely mouthwatering!  Ritz Crackers make the perfect crispy crust for this salmon and is pares perfectly with a quick homemade honey mustard sauce! 
Over the past few years, I have seen delicious Ritz Cracker Chicken Recipes all over Pinterest, and I have always wanted to try them.   I LOVE Ritz crackers.  Is there no better snack than Ritz Crackers and cheese?   Since it is Lenton season for me, I decided to make a recipe using Ritz crackers.
This Honey Mustard Ritz Cracker Salmon is the best!
Cooking Tip- I highly recommend using Real Ritz Crackers in this recipe.   I buy generic much of the time, but I recommend using the Ritz brand for this recipe.
This recipe is:
Easy: Cooks up in 15 minutes from start to finish
Budget-Friendly: This $5.00 piece of fresh salmon fed three of us for lunch.
Has a short ingredient list: This recipe is salmon, honey mustard, and Ritz Crackers
It is kid-friendly- Honey mustard is sweet, and so are Ritz Crackers.  My four-year-old devoured this salmon!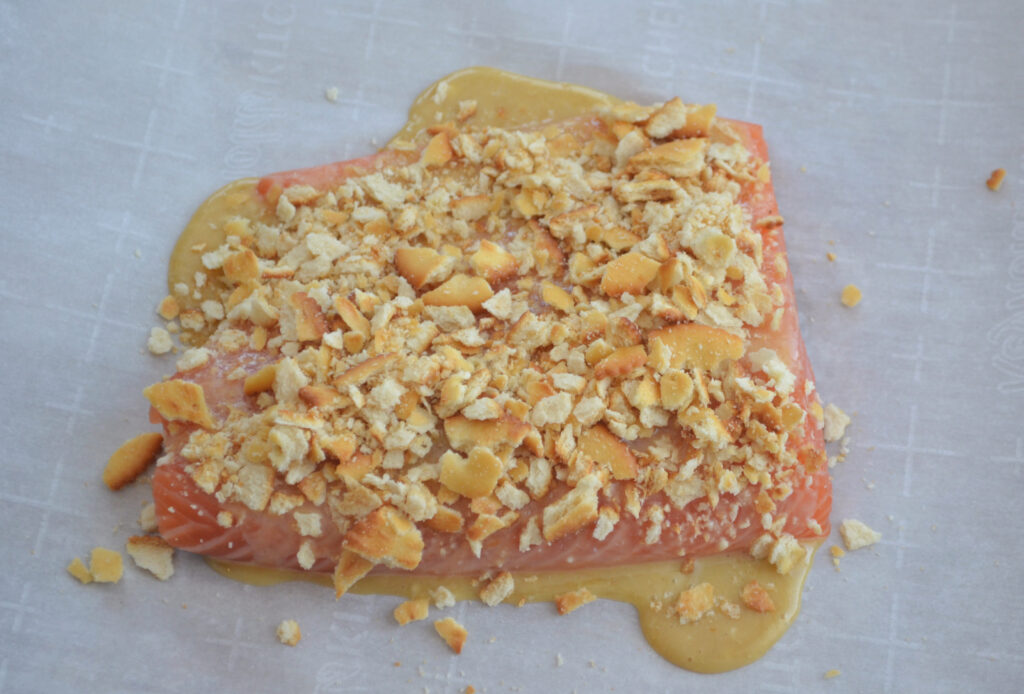 This is SUPER easy.  All you need to do is:
Preheat the oven to 400 degrees
Make a quick Dijon honey mustard sauce.
Spread honey mustard over the salmon.
Place crushed Ritz crackers over the salmon.
Cook for 15 minutes.  Note:  If you use a larger salmon piece, you will want to cook it for additional time. 
My homemade honey mustard sauce is easy.  I mix 2 tablespoons of Dijon mustard with 2 tablespoons of honey and 1 tablespoon of mayonnaise and mix them.
Cooking Tip: If your family has a favorite honey mustard sauce, maple mustard sauce, or a sweet dressing.  USE IT and make this recipe your own!
Ingredients
1

1lb

piece of salmon

1/2

cup

honey mustard sauce

6-8

Ritz Crackers

Crushed
Honey Mustard Sauce
2

tablespoons

Dijon mustard

2

tablespoons

honey

1

tablespoon

mayonnaise
Instructions
Make Honey Mustard Sauce: Mix together Dijon mustard, honey, and mayonnaise. Set aside.

Preheat Oven to 400 degrees

Spread honey mustard all over the salmon

add a medium-thick layer of crushed Ritz crackers over the salmon

Bake for 10 minutes. If you are making a thicker piece of salmon, you will want to increase the cooking time.

Remove from oven and serve.
This salmon is excellent!  I am excited to try more recipes using Ritz Crackers.