This post contains affiliate links
If you read this website often, then you know that I have quite the obsession with Panera.  I love relaxing there on what I call kid-free mini mom vacations.  That's right, a few times a year I will leave my husband and kids and eat dinner at Panera alone.  It is so incredibly relaxing you have no idea.  I also love almost everything on their menu.  I was excited to hear about how the owner of Panera started it on my favorite podcast How I built this a few weeks ago.
I have made a few of their salads at home.  So far, I have made a copycat Strawberry-Poppyseed and their Ancient Grain Arugula salad.  Both turned out good.  Can I tell you my absolute favorite thing at Panera?  The Turkey-Avocado BLT is what I get when I want to indulge.
Can I share with you my predicament? If I take my three sons to Panera for lunch, it will cost at least $25.00 for the four of us to eat, and I am not going to do that when I can make macaroni and cheese for them at home for like $2.00. Ya know?  Panera sells loaves of their bread, so it is much easier to buy a loaf of Panera bread and bring it home to make sandwiches when you have a taste for Panera.  You can make sandwiches for the whole family for the same cost!
The turkey that Panera uses in their sandwiches is really, really good.  It is flavorful and tender, and I didn't think I would be able to replicate a Turkey-Avocado BLT at home unless I made good, turkey to go in it.  I ended up finding a hormone-free boneless turkey breast roll at the store and cooked it in my Instant Pot
.  It turned out well and made this sandwich taste authentic.
Here is a short video on how I made this Copycat Panera Turkey!  It was super easy to make and lasted in the fridge for tasty sandwiches for several days!
Copycat Panera Turkey for Sandwiches
Ingredients
1

2 lb

Boneless turkey roll

3

cloves

garlic

1

tablespoon

Greek seasoning

2

teaspoons

smoked paprika

1.5

cups

water or chicken broth
Instructions
Add the trivet to the bottom of your Instant Pot and add water or broth.

aff garlic, Greek seasoning and smoked Paprika to the turkey roll and rub it in.

Place lid on the Instant Pot and cook on high pressure for 30 minutes

Vent after cook time and remove turkey roll. Slice and build your sandwiches!
Turkey Avocado BLT Sandwich
Assemble your Turkey-Avocado BLT. Smush avocado on one slice of bread, add bacon, sliced tomato, lettuce, and turkey. Top with another slice of bread.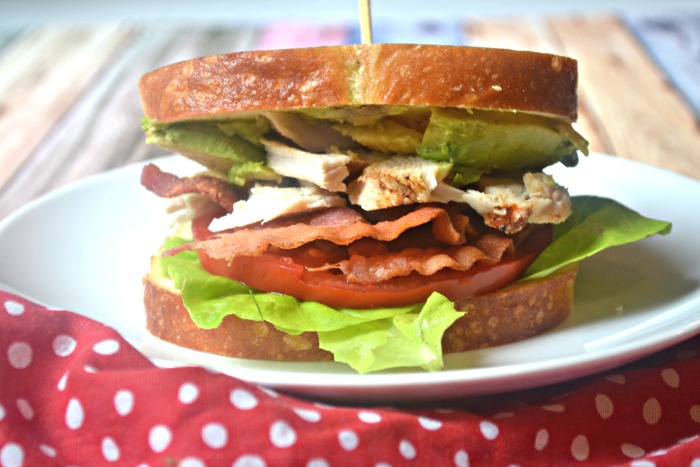 You could use this copycat Panera turkey on your own version of Panera's roasted turkey, apple, and cheddar sandwich as well.  Or you can make your own creation!