These Mint White Chocolate Macadamia Nut Cookies are chewy on the inside and have a flakey-crispy outside.  They're loaded with white chocolate chips, macadamia nuts,  fresh mint from my garden! 
If you like these cookies, check out my other recipe for White Chocolate Chips!
One of my best friends worked at Subway in high school, and I have been obsessed with white chocolate macadamia nut cookies ever since.   I gave this classic cookie a facelift by adding fresh mint from my herb garden! White Chocolate tastes amazing with mint.  And mint tastes great in baked goods!  These cookies are such a delightful treat!
If you are a frequent reader of this site, you may notice that I have been sharing more cookie recipes lately.  I do think that cookies are the most challenging baked good to bake.  I have created a few basic cookie formulas and have been trying to add new flavors.  It has been great overcoming my fear of becoming a baker.
How do you get your White Chocolate Macadamia nut to be chewy?
The most important thing to get right when making white chocolate macadamia nut cookies is that the cookies turn out chewy.   Chilling the dough is the most important step to make the cookie chewy.  You should chill the cookie dough for at least an hour.  But if you don't have the time, at least chill the dough for 30 minutes at the very least.  
Here are a few important steps to follow when you bake with mint.
Make sure you cut your fresh mint into small pieces- You will want to ensure that the cookies get minty. Cutting the mint leaves into small pieces will make the cookies mintier. AND help disburse the mint throughout all the cookies. 
Cream the mint in with the butter-This is a great way to get mint flavor throughout your cookie.
These Cookies call for mostly baking ingredients you already have in your pantry.  All you need is:
Butter
Fresh Mint
Pure Vanilla Extract
Brown Suger
White Sugar
One egg
One egg yolk
All-purpose Flour
Baking Soda
Salt
Macadamia Nuts
White Chocolate Chips
Process matters when you make these cookies.  It is important to follow all the steps.  Especially chilling your dough.  Your cookies will turn out flat and spread out if you don't chill your dough. 
Fresh Mint White Chocolate Macadamia Nut Cookies
Ingredients
1/2

cup

butter at room temp

10

mint leaves

chopped

1/2

cup

brown sugar

1/4

cup

white sugar

1

teaspoon

pure vanilla extract

1

egg

1

egg yolk

1 & 1/2

cups

all-purpose flour

1

teaspoon

baking soda

1/2

teaspoon

salt

1/2

cup

white chocolate chips

1/2

cup

macadamia nuts
Instructions
Using an electric mixer, cream butter, mint leaves, white sugar, brown sugar, vanilla, egg, and egg yolk

In a separate bowl, whisk flour, baking soda, and salt.

Slowly add dry ingredients to the wet ingredients while mixing.

Add macadamia nuts and white chocolate chips.

Place cookie dough in a bowl and cover. Chill in the fridge for at least 1 hour.

Preheat oven to 350 degrees.

Line the baking sheet with parchment paper and place 1 inch balls of dough evenly on the baking sheet.

Remove from oven. Let cool and serve.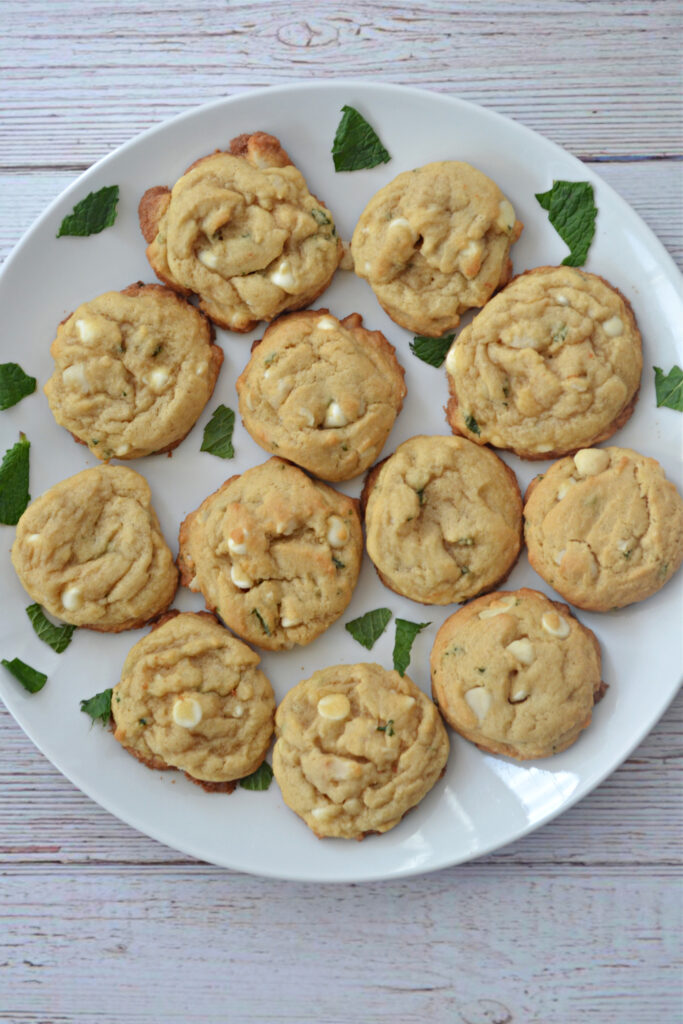 These cookies taste amazing!  You can add as much or as little mint as you like.  I suggest adding more than ten leaves if you enjoy the minty flavor.   White chocolate tastes awesome with mint, and this is the perfect treat to make with all of that mint going wild in our herb garden!