This post is sponsored by Greek Gods but the content and opinions expressed here are my own.  #GreekGodsYogurtatWM . #GreekGodsYogurt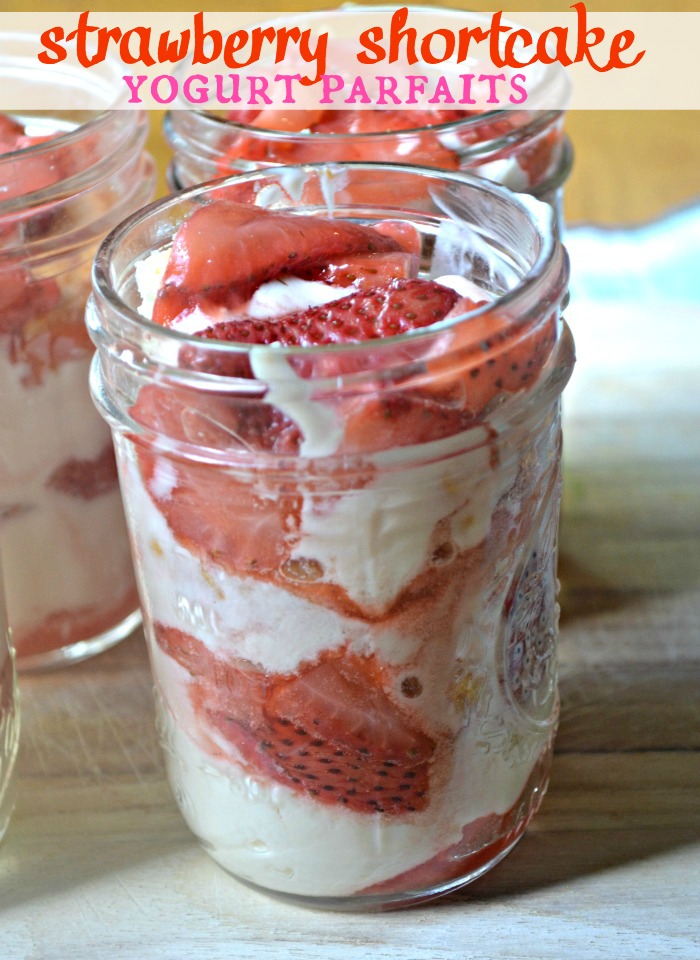 When I think back to the food that I enjoyed during the summer as a child, one thing stands out brightly in my memory is   Strawberry Shortcake.   There is just something about sinking your teeth into a sweet, juicy, red strawberry when the weather starts to get warm.
My dessert sweetness pallet has changed quite a bit over the years.  I don't add sugar to fruit recipes anymore because I find that fruit is sweet enough already. Plus I love using yogurt in desserts instead of ice cream or whipped cream, which brings me to these yummy strawberry shortcake yogurt parfaits.
These strawberry shortcake parfaits are the most refreshing dessert to eat on a hot day but are good enough for you to eat for breakfast or a snack as well.  I also think these would be adorable to serve at any wedding shower, any baby shower or birthday party.   These will be a huge hit for kids and adults alike.
I picked up Greek Gods® Honey Vanilla Greek-Style Yogurt at Walmart and used it in these Strawberry Shortcake Yogurt Parfaits.  This Yogurt is just sweet enough to satisfy your sweet tooth without being too sweet.
The Honey-Vanilla yogurt is super creamy, thick, silky smooth and perfect to add into any fruit-inspired dessert.
I also often keep Greek Gods® Traditional Plain Greek-Style Yogurt on hand as well.  If you like your yogurt tart, plain yogurt would also be good in this recipe.
When I make strawberry shortcake, I like to make a simple biscuit.  Again with the not too sweet theme, these strawberry shortcake yogurt parfaits were polished off quickly by my family, and it was a dessert I felt good making for them.
Strawberry Shortcake Yogurt Parfaits
Ingredients
Strawberries
2

cups

chopped strawberries

1/3

cup

water
Biscuits
2

cups

flour

1 1/2

sticks

butter

1

egg

1

egg white for the top

3/4

cups

buttermilk

1

teaspoon

baking powder

1/2

teaspoon

baking soda
2 cups Greek Gods® Honey Vanilla Greek-Style Yogurt
Instructions
Make Biscuits. Preheat oven to 400 degrees. Combine the flour, baking soda, and baking powder. Grate the cold butter into the flour mixture and cut in until it is pea-sized. Add egg and mix until you get a crumbly dough. Add buttermilk a little at a time until dough forms. Cut out 12 biscuits about 1/2 inch thick. Brush on egg wash and cook for 15 minutes.

Cook Strawberries. This is optional. Fresh strawberries work well too. In a saucepan over medium heat, combine strawberries and water. Cook until strawberries are tender and cool before placing in the parfaits.

Build your parfaits. On the bottom of a mason jar place a heaping spoonful of yogurt, followed by a heaping spoonful of strawberries. Cut one biscuit into four pieces and arrange in the parfait. Top the biscuit with an additional heaping spoonful of yogurt, followed by another heaping teaspoon of strawberries.
You can find more recipe ideas using Greek Gods Yogurt on their social media channels.  You can find them on
These Strawberry shortcake yogurt parfaits were awesome!  I can't wait to make them again!   My middle son has requested this again with oranges.  I might have to oblige him.