This post may contain affiliate links 
Because I am in a never-ending search and attempting to get my family to eat healthier, I have started cooking turkey breast rolls on Sunday nights and keeping turkey breast in the fridge for healthier lunches.
Cooking fresh turkey is:
healthier than processed lunch meat
less expensive than processed lunch meat
tastes better than processed lunch meat
Plus, when I have delicious fresh turkey in the fridge, I can:
Cooking a frozen turkey breast roll in your Instant Pot
is an excellent method because:
You can keep your turkey breast roll in the freezer until you are ready to make it
No defrosting is necessary
It cooks fast
Hardly any prep is needed
These frozen turkey breasts usually come with a packet of gravy.  You can make the gravy if you like, but I typically want to make the turkey for sandwiches and salads, so I discard the gravy packet.
To cook a frozen turkey breast roll in your Instant Pot, you will need:
and that's it!
Instant Pot frozen turkey breast roll
Ingredients
1

2-3 pound

frozen turkey breast roll

3

cups

water

1

teaspoon

olive oil
Instructions
Place your frozen turkey breast roll in a pot of water for 3-5 minutes. You will want to defrost it just enough so you can cut it out of its packaging.

Discard the gravy packet that comes with the turkey. ( unless you want to make the gravy)

Keep your turkey breast in the string netting.

Place 3-4 cups of water in the bottom of your Instant Pot.

Place the Turkey Breast Roll in the water in your Instant Pot.

Place Instant Pot lid on. Seal the valve and cook on high pressure for 45 minutes.

Let pressure naturally release. Cut the string netting off your Turkey and slice.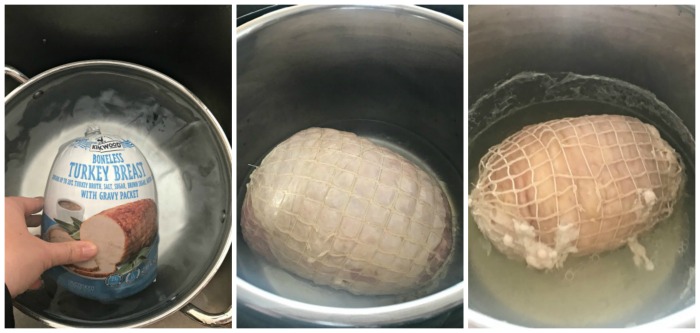 This is so easy!  I love having delicious turkey around for all types of meals my family loves!  Plus, my kids love bringing turkey sandwiches in their school lunch!