This post contains affiliate links. 
This is only the third time I have ever made something sweet in my Instant Pot
.  Last year, I made an Instant Pot peppermint vanilla latte, which turned out pretty good.  After spring break I came home from Florida and decided it was time to make Instant Pot Key-Lime Pie.  But that is it.  So much pulled chicken in this thing, but hardly any desserts.
I don't usually keep too many sweets around the house.  I try to stay away from sugary things if at all possible, which is why you don't see too many desserts on this website.   And actually, I tend to gravitate more towards savory or sour foods rather than sweet.
But when I do want something sweet, I tend to want either a warm brownie or a warm chocolate chip cookie, usually with a tall glass of milk.
A few times a year, my husband will make my favorite brownie mix after the children go to bed.  Other times I need to fend for myself.
Which brings me to this mason jar chocolate chip cookie for one.  This is ooey, gooey, melty and the perfect thing to whip up when you want something chocolatey and sweet!  I have made those microwave mug cake/cookie recipes a few times, but making this in the Instant Pot
was soooo much better! This cookie for one came out perfectly steamed instead of dried out.
Here is a video I made for you on how easy this is!
As you might see from this video that I use a super tiny whisk.  I bought myself this teeny tiny whisk after seeing it used to mix marinades and salad dressings on all those recipe videos on facebook.   I love it, and I use it all the time!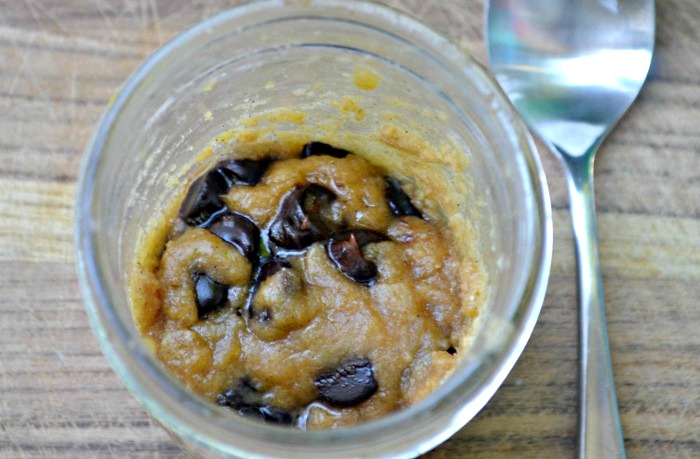 Pressure Cooker Chocolate Chip Cookie For One
Ingredients
1

tablespoon

melted butter

1

egg yolk

1

tablespoon

sugar

1

tablespoon

brown sugar

2

tablespoons

flour

1/16

teaspoon

salt

1/4

teaspoon

vanilla powder or vanilla extract

1

tablespoon

chocolate chips
Instructions
In a mason jar whisk together melted butter, egg yolk, sugars, and vanilla.

Add flour and salt mix well.

Top your mason jar with tin foil.

Place 1 cup of water in your pressure cooker along with the trivet that came with it.


Place the foil-covered mason jar on the trivet.

Close your pressure cooker and cook on high pressure for 7 minutes. Or 5 if you want your cookie to be extra gooey.

Remove lid immediately after the cooking process has ended.
This was such a great way to satisfy my sweet tooth without going overboard.  Next time I will double the recipe and make one for my husband too!