This post is part of a social shopper marketing insight campaign with Pollinate Media Group®, Birds Eye®, and Farm Rich® but all my opinions are my own. #pmedia #FullnRichFlavor  http://my-disclosur.es/OBsst
I love preparing homemade nutritious meals for my family.   But I will totally cut corners if I can.   Life is busy in my home.   I work from home, while taking care of my children.  Plus, my oldest just started playing the cello at our local Suzuki school.   I have to practice with him. every day.  ( I actually love it)
There are days when I have to do 100 other things besides make dinner.   I like to keep some pre made items in my freezer, so I can just whip something up if needed.    Last weekend, I picked up some of these freezer staples at Wal-mart.
I have been buying the new flavors of Birds Eye Steamfresh Vegetables for a few months now, and I love them. ( in addition to the varieties used in this recipe, I also love the Buffalo Cauliflower and the Southwest protein blend)   I was also really impressed at how flavorful Farm Rich® Smokehouse Pork tasted.   To learn more about the different varieties offered, check out these companies on social media.
Birds Eye is on Facebook, Twitter and Pinterest.  You can find Farm Rich® Smokehouse on Facebook, Twitter, Pinterest or Instagram.
Also For a limited time, earn $0.75 on Birds Eye Vegetables and unlock $1.00 off one Farm Rich® Smokehouse product with Ibotta while supplies last.
If you haven't used Ibotta, you have to download the app available on iOs and Android.  Before you shop, be sure to unlock the rebates for both Birds Eye Vegetables and Farm Rich® Smokehouse.  Then, shop!  Buy the products that you've unlocked at major retailers.  Finally, verify your purchase by scanning your barcodes and submitting a photo of your receipt!
When I was asked to put together quick recipe using these products, I wanted to use these microwavable sour cream and onion potatoes.  I loved the idea of being able to cook these potatoes in a bag in the microwave in just a few minutes.  Usually potatoes can take forever to cook.   I was able to put together this shepherds pie in just a few minutes.  I just microwaved each item above and assembled an awesome dinner.
I also added 1/2 cup of chopped kale and 1 chopped carrot.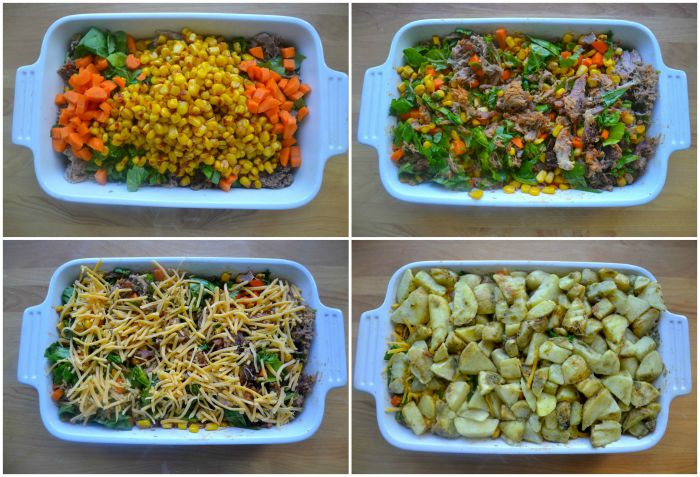 Sour Cream and Onion Pork Shepherds Pie 
Ingredients 
1 package of Farm Rich® Smokehouse Dry Rub Smoked Pork
2 packages of Birds Eye Sour Cream and Onion Potatoes
1 package of Birds Eye BBQ Sweet Corn
1/2 cup of chopped Kale  ( or spinach)
1 chopped carrot
1/2 cup os shredded cheese
Method:  Preheat oven to 350 degrees. In the microwave, cook the Smoked Pork, Potatoes and Corn.  while these are cooking, chop kale and the carrot.   When the pork, potatoes and corn are cooked, assemble your shepherds pie.   In a casserole dish, place pork, corn, kale and carrots.  Mix together well.  top with cheese and potatoes.  Bake shepherds pie in the oven for 10 minutes.  or microwave the shepherds pie for 4 minutes if you're in a hurry.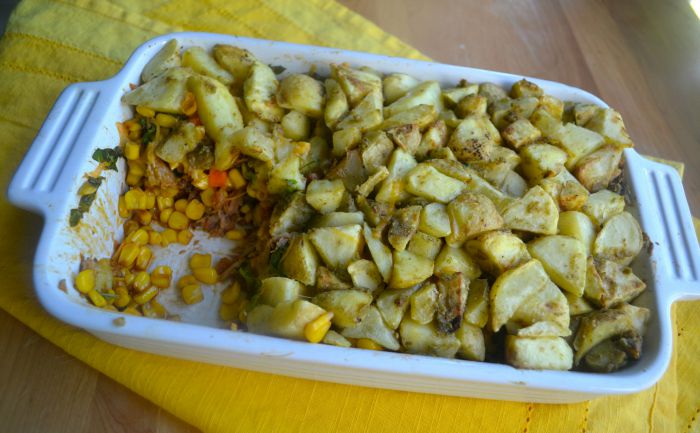 I really want to make this again soon.  My kids polished off the last of it for lunch today.  It was tasty.  I like to think away from pizza on busy nights.  This was a dinner we all enjoyed.   ( my husband really enjoyed the pork A LOT)
Don't forget to visit Birds Eye and Farm Rich® Smokehouse online to check out more of their flavors!