I love classic cucumber salad!  This year, I have decided to switch cucumber salad up a bit by adding zingy chimichurri sauce!  Chimichurri sauce is an Argentinean condiment.  I have started adding it to many of my favorite midwest dishes. This salad screams summer.  Crispy garden fresh cucumbers and chimichurri sauce made from fresh herbs!  Yum!
Last year we didn't have a vegetable garden due to moving.  This year, because we're home most of the time, we have a very extensive plethora of vegetables!  This is our first year growing cucumbers, and we have a lot.
I truly love classic cucumber salad using red wine vinegar and tomatoes.  Last weekend, I was making chimichurri sauce for another recipe when I realized that my favorite ingredient in chimichurri sauce is the red wine vinegar.  So I decided that I would give this salad a try.  Long story short, this recipe was fantastic, so I had to share it with you.   I also had to sneak these cucumber slices from my three-year-old wanted to eat them all!
This zesty, garlicky side dish is incredible and a perfect way to switch up summer dinner sides!
All you need for this meal is
Chimichurri Sauce  You can make your own or purchase some. 
Fresh Cucumbers.
Tomatoes
And that's it!
There are several ways to make Chimichurri sauce.  I have seen recipes for several different combinations of herbs.  You can use dried herbs in this, but for the best results, I recommend fresh herbs.
Ingredients in Chimichurri sauce are:
Olive oil
Red wine vinegar
flat-leaf parsley
minced garlic
salt
pepper
oregano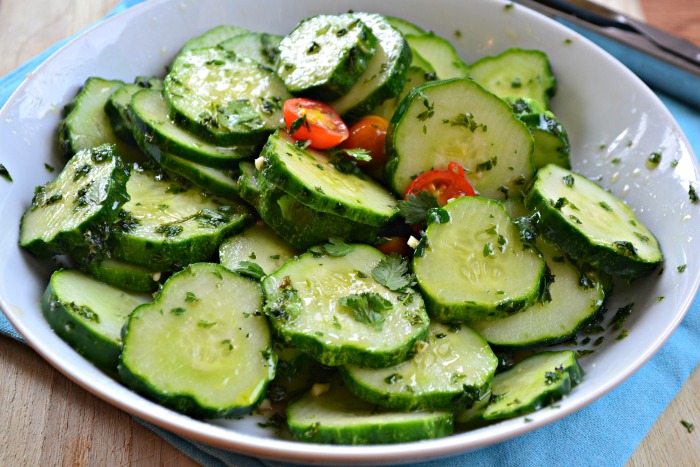 If you are partial to Chimichurri sauce like I am, here are some more Chimichurri recipes you might like.
Ingredients
3

medium

cucumbers

sliced

1/2

cup

grape tomatoes
Chimichurri Sauce
1/2

cup

olive oil

2

tablespoons

red wine vinegar

1

cup

flat leaf parsley

1

teaspoon

minced garlic

1

dash

pepper

1

dash

salt

2

tablespoons

oregano
Instructions
Wash and slice cucumbers and tomatoes Place them in a bowl.

Mix ingredients to your chimichurri sauce in a blender. pulse the ingredients together. You can also mix the ingredients by hand.

Pour Chimichurri sauce over the cucumbers and tomatoes. Let marinate in the fridge for 1-2 hours before serving.