I love these Peanut Butter Noodles.  I will tell you why.
This is an easy make-ahead recipe that can be fantastic when eaten for lunch or dinner.
These peanut butter noodles are delicious when eaten hot.  But on these hot days of summer, they can be enjoyed cold.
My kids love their peanut butter.  They love peanut butter noodles, and they get getting some good protein in their meal too!
This is an ideal dish to bring to summer get-togethers.  I like the idea of this being a non-mayo salad- so it is okay if it sits out for a little while on the deck.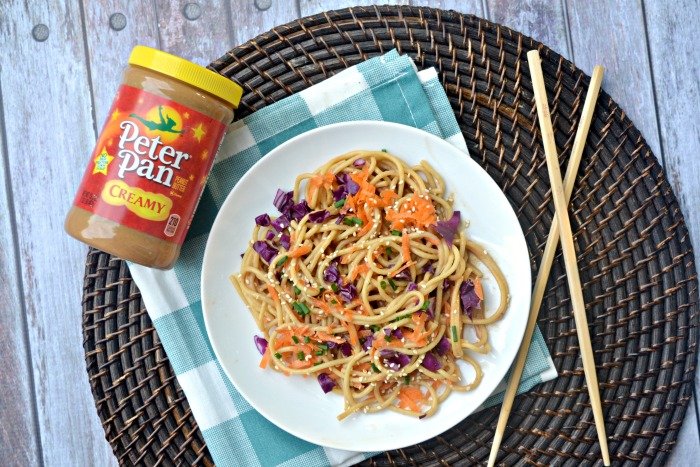 My peanut butter noodle recipe has evolved from a traditional Pad Thai recipe.  I have changed it, using ingredients I usually have around and have toned the spice down a little bit to turn peanut butter noodles into a dish that my kiddos love!
Kid-Friendly Peanut Butter Noodles 
Ingredients 
1 package of spaghetti – you can use whole wheat or regular.  You can also use rice noodles for a Gluten-Free option 
2 carrots, shredded
1/2 cup of purple cabbage, chopped
2 scallions- chopped
extra veggies if desired
added protein if desired.
peanut sauce 
1/2 cup of Peter Pan® Peanut Butter
1 tablespoon of rice vinegar
2 tablespoons of brown sugar.  You can also use maple syrup
3 tablespoons of low sodium soy sauce.  You can also use Tamari sauce if you're gluten-free. 
2 teaspoons of minced ginger
1/2 cup of water
Garnish ideas: optional 
sesame seeds
cilantro
chopped peanuts
Method:  In a saucepan over medium heat, heat all the ingredients for the peanut sauce while whisking.  Once everything is mixed, remove from heat and set aside.  Cook the noodles according to the directions on the box. Chop vegetables.   Once the noodles are cooked, pour the peanut sauce over the noodles. Eat right away, or store in the fridge for later. 
These noodles are so easy, and they are a crowd pleaser!  Plus they are a crowd pleaser!  They are perfect for these hot summer nights!