Thank-you to Iowa Egg Council for sponsoring today's post.  All opinions are entirely my own.  #putaneggonit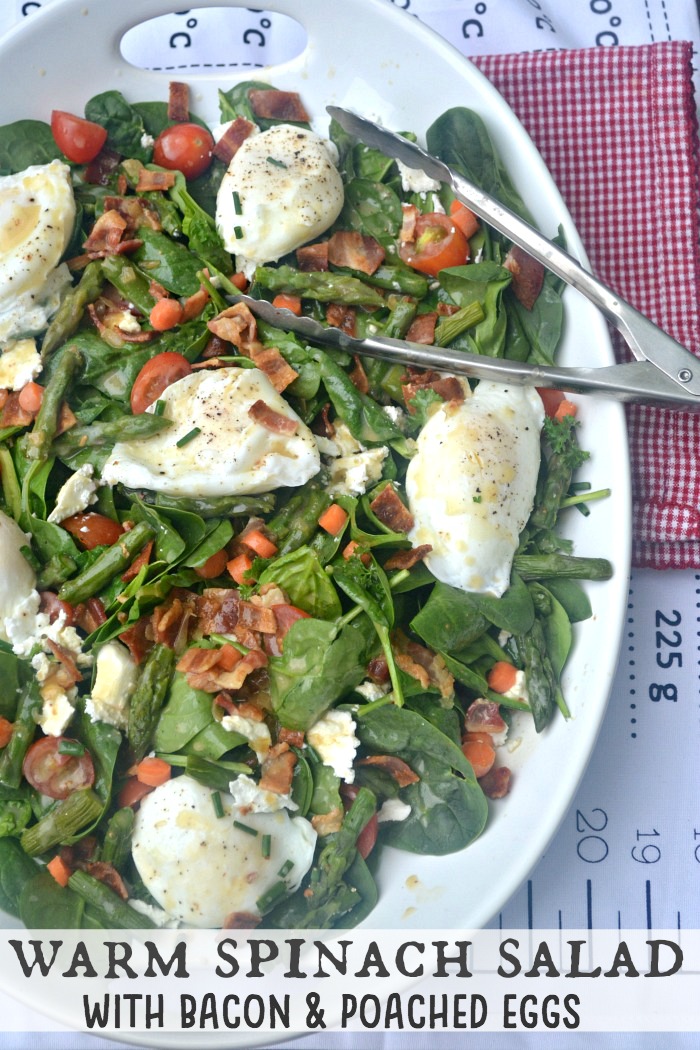 Can we talk about some of my all-time flavor combinations for a minute?  Warm, sweet bacon salad dressing, gooey goat cheese, and the magic of a poached egg.  Uh yeah, I would say that pretty much tops it.
I love serving salads at get-togethers this time of year.  I love showing off this season's prettiest produce, plus I do think that people are hoping to see a few salads when they go to a picnics or barbecues.  I know I am.
I have been dreaming about warm spinach salad since my husband took me out to dinner for my birthday the first year we were married.  ( I was turning 24, I am now 35. So yeah, it's been a while.)  I always thought that something so delicious must be too difficult to tackle at home.  But actually, some of the best tasting food is simpler to make than you might think.
Take eggs for example.  They are one of the primary food items that appear on my family's shopping list every week, but there are endless possibilities in which they can be prepared.  You can scramble them up and serve them on toast, which I often do.  Or you can perfectly poach them and put them on this fantastic salad.
As a proud Iowan, I am happy to inform you that Iowa is that number one Egg producing State in the country, producing more than 16 billion eggs per year.  This is so important because eggs are such an excellent, inexpensive way for families to eat well.
Plus I love the fact that in 2018 egg farmers are producing eggs more efficiently than ever before.  Hens are living much longer nowadays due to better living conditions, better health, and better nutrition.
You can visit Iowaegg.org for an extensive collection of yummy recipes you can make with eggs!
May is National egg month, so I am celebrating by adding these eggs to my favorite salad.  What is your favorite way to #putaneggonit?
Iowa egg is also very active on social media, sharing delicious looking egg recipes!  You can find The Iowa egg council on Pinterest, Twitter, Facebook, and Instagram.  
I must admit that for a while I thought that I found poaching eggs to be a little intimidating. But after little practice, it becomes pretty easy.  There are many small egg poaching gadgets out there that make egg poaching easy, but poaching eggs the old fashioned way is easy too, and worth learning.
When you #putaneggonit Any dish, all of a sudden becomes a protein-packed meal.
This salad is a complete meal that will leave you feeling full.  It is so comforting and full of flavor that you will forget you have a salad for dinner.  Promise.
Warm spinach salad with bacon dressing and poached eggs
Ingredients
10

ounces

fresh spinach

1 bag

1/2

cup

grape tomatoes

1/3

cup

chopped carrots

1

bunch

asparagus

2

slices

bacon

2

ounces

goat cheese

4-5

poached eggs

1

dash

pepper
Warm Bacon Dressing
2

slices

bacon

1/2

caramelized onion

1/2

cup

apple cider vinegar

1

teaspoon

dijon mustard

1

tbsp

sugar

1/2

teaspoon

cornstarch

2

tablespoons

water
Instructions
Arrange spinach in a bowl or a platter. Add tomatoes, carrots and goat cheese.

Steam asparagus. Cut asparagus into pieces and arrange them on the salad.

Cook all four pieces of bacon. crumble two pieces on the salad. save the bacon grease and 2 slices of bacon for the dressing.

Add bacon, poached eggs and warm bacon dressing to the salad. Top the eggs with a little pepper and serve.
Warm bacon dressing
In the pan that has the leftover bacon grease, add chopped onion and caramelize.

add sugar, two slices of crumbled bacon, cider vinegar, dijon mustard, water, and cornstarch.

heat until the dressing is nicely blended and drizzle onto the salad still warm.
Poach Eggs
Crack eggs into individual bowls or saucers.

bring a pan of water to a simmer.

tip eggs into the pan individually.

Cook for two minutes. Remove from heat.

Leave in the pan for another 6-7 minutes.

Remove from pan and serve.
I can't tell you how delightful this salad was.  I added asparagus because I love eating as many seasonal vegetables as possible to my salads.  If you're reading this post during the winter, you can always add your favorite winter veggies!
There are so many ways to enjoy eggs!  Eggs are a great way for families to eat well.  They are inexpensive, they will keep in your fridge for 3-5 weeks, and there are so many ways to prepare them!
Don't forget to celebrate National egg month by checking out  Iowaegg.org for more fantastic egg recipes!  What is your favorite way to #putaneggonit?