I have received information and materials from ©Johnson & Johnson Consumer Inc. 2017.The opinions stated are my own. This is a sponsored post. #ForBetterTomorrows #BetterTomorrows #FallBack #CollectiveBias
Guys.  We need to talk.   It's about the holiday season that's coming up.   Thanksgiving and then the craziness of Christmas.
I just have to ask: As a society, why are we still doing this?  Sometimes, as a mom, I just wish that we could simplify things – just a little bit? 
At the end of it all.  All the meal planning, Christmas shopping, elf moving, house cleaning, gift wrapping, traveling, cookie baking, classroom party planning, and coordinating get-togethers with family members.   Does going over-the-top for these things really make us happier?
Last year, my husband and I decided we would stop getting gifts for each other- and instead spend that money on a babysitter and a dinner date.
Do you know what else would be a great gift this holiday season?  Just to forget about all of the things above and relax my achy back with a restful, peaceful sleep.
Click on the photo below, to shop for some TYLENOL® PM at Walgreens.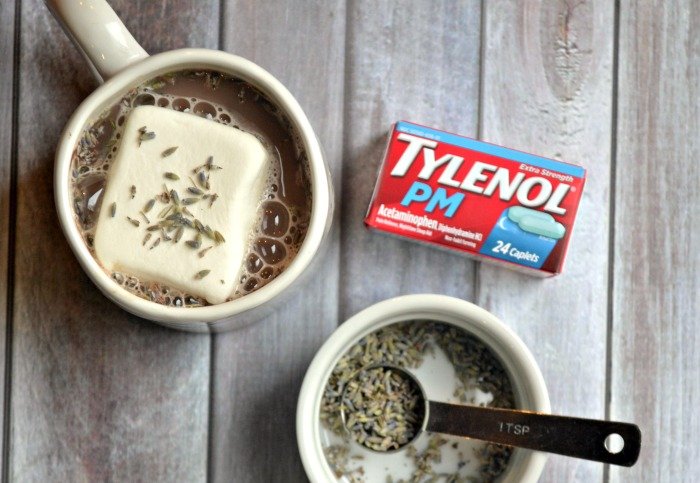 Since I run around like a crazy person all day long.  And because my back is often somewhat achy from my hard workouts, I like to make sure to relax during that time before bed.  This summer, I had a friend introduce me to lavender for relaxation.   I have started adding it to hot drinks before bedtime.
Plus, sometimes, I turn to TYLENOL® PM to help me sleep when by back is really aching.  Last week, I picked up some TYLENOL® PM when I was at Walgreens.   Right now, TYLENOL® PM is collaborating with Walgreens to help people rest instead of having sleepless nights, during this time of year when rest time is so sparse.
Right now, you can get TYLENOL® PM 100 count for $11.99 , $1.50 off with your Walgreens card!  This offer is valid from 11/5-11/11.
You can find TYLENOL® PM in the pain relief aisle, in the sleep aid's section.  It is very important use TYLENOL® PM only as directed on the product packaging.
I really love relaxing before bed with a hot drink.  Sometimes I drink tea.  But some days call for hot chocolate.  You can use bulk lavender in this hot chocolate, or you can use lavender essential oil too.   You need to be careful with how much lavender you use.  Lavender is potent. If you use too much, your hot chocolate might taste a little like soap.
Lavender Hot Chocolate For One 
Ingredients 
2 cups of milk
1/4 teaspoon of lavender buds
2 tablespoons of cocoa powder
1 tablespoon sugar
Method: In a saucepan, over medium heat, heat up milk, coco powder , sugar and lavender.  bring the mixture to a boil.  Once the mixture is boiling, turn off the heat, and pour into a mug to enjoy.  sip once the hot chocolate is at a temperature that you are comfortable with, enjoy!
Don't forget to check out the deal that Walgreens is having on TYLENOL® PM, using your Walgreens card!
You can also find them on Facebook and Youtube!
TYLENOL® PM contains a pain reliever and nighttime sleep aid. ©Johnson & Johnson Consumer Inc. 2017 The third party trademarks used herein are trademarks of their respective owners.