This shop has been compensated by Collective Bias, Inc. and its advertiser, MARS Incorporated. All opinions are mine alone. #BOOItForward #CollectiveBias
Halloween is a special time of year in our house.   Our city has amazing trick-or-treating in the downtown area, and it is so much fun!  We also love handing out candy to trick or treaters the neighborhood!    In addition to Halloween, TWO out of my three sons have birthday's the week of Halloween!  During this time of year, we have so much to celebrate!
We also love making homemade costumes!  I have our costumes all done for this year, and I am afraid that this year, will be the last year the kids will agree to " family costumes."
I have always loved handing out candy to the neighborhood.  But, some of the neighbors we are closest with are couples who no longer have trick or treaters who are living with them.   I thought it would be super fun to " BOO" them!  Let's do Some Friendly Neighborhood BOO'ing!
Are you new to" BOO'ING your friends and neighbors? It is an entertaining idea.  Just leave some treats on your neighbor's doorstep, and ask them to "BOO" it forward to someone else!   Start by getting candy at Walmart and just put together some gift bags.  Nothing needs to be overly fancy.
Click on the photo below to head over to Walmart.com for your "BOO" ing supplies!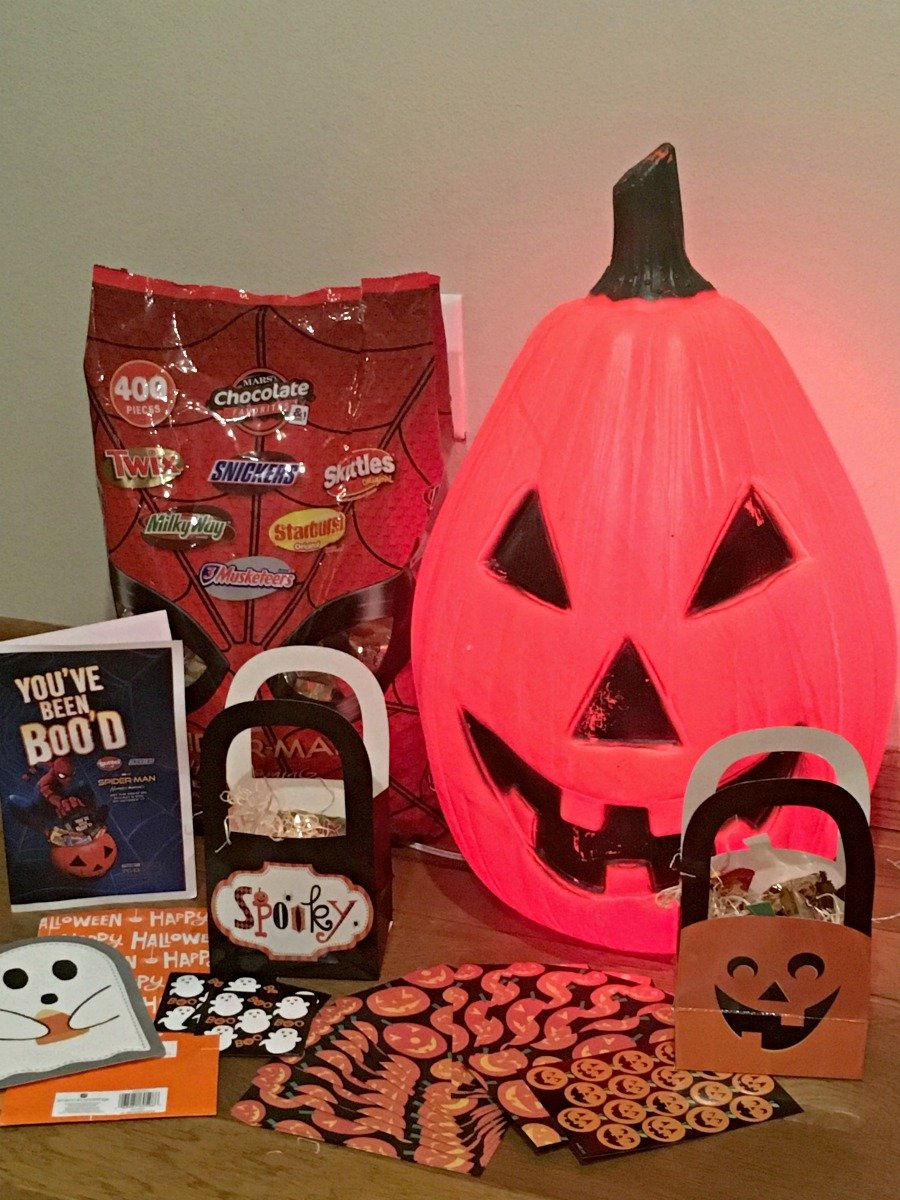 I picked up this MARS® Spider-Man Chocolate/Sugar Variety Bag (400 pieces) at Walmart. I had more than enough candy to BOO my neighbors, and will have plenty of leftover for all of our trick or treaters too! ( Of course, I will have to hide it from my husband until Halloween.) This bag is only available at Walmart. I picked it up in the " Holiday" section of the store.
While you're at Walmart, check out some of the fun Halloween cards, boxes and gift bags from American Greetings.
This MARS® Spider-Man Chocolate/Sugar Variety Bag (400 pieces) contains:
MARS® Candy
Skittles® Original Fun Size
Starburst® Fun Size
TWIX® Fun Size
SNICKERS® Fun Size
MILKY WAY® Fun Size
3 MUSKETEERS® Fun Size
I thought it would be a fun gesture also to make Thumbprint cookies to add to my BOO Bags using SNICKERS® Fun Size, MILKY WAY® Fun Size, and 3 MUSKETEERS® Fun Size. These were cute!
I made just a very simple shortbread cookie and added each fun-sized candy bar in the middle of each cookie.
Making these " BOO " kits was super fun!  If you're not into making homemade creative "BOO" kits, you can always hop onto Walmart's website and purchase a pre-bundled equipment to send to a friend or family member.  You can also include the Spider-Man Homecoming DVD in your BOO kit!