I have been really into making Asian recipes at home lately.  In the past month, I have shared with you my Protein -Packed Pad Thai and Cashew Chicken Lettuce Wraps.  My kids really love any dish with rice or rice noodles.
I was gawking over recipes for orange beef and decided that I would switch up the recipe a little bit- and make a sauce out of pureed mango, instead of orange juice.   I also added some ginger to the sauce for a little kick
This dish was a huge hit.   I have never been a big beef person, but my "Iowa Husband" sure appreciates it when we have it for dinner.   You don't need to use expensive beef for this recipe.  I used " stew meat" and it turned out wonderful.
This was a super fast dinner.    Whenever I am making a recipe that calls for rice- I always cook the rice in advance in my rice cooker.   My rice cooker keeps it warm until dinner time.
Mango – Ginger Beef and Broccoli 
Ingredients 
Sauce:
1 Mango
1/3 cup of soy sauce
2 tablespoons of rice vinegar
1 teaspoon of ground ginger
pinch of red pepper flakes
1/3 cup of water
1 clove of garlic
Method for Mango-Ginger Sauce: In a food processor, puree the sliced and peeled mango with the other ingredients.  Set the sauce aside.
2 tablespoons of cornstarch
1 pound of stew meat- or your beef of choice cut up into pieces.  – I use my Williams-Sonoma kitchen shears when I cut meat into small pieces. 
1 head of Broccoli- steamed
an additional 1/3 cup of soy sauce
1-2 tablespoons of oil- I used canola oil
Method:.  In a bowl, toss the beef with cornstarch and 1/3 cup of soy sauce.   Set aside.  In a Saucepan,  cook the beef in the oil until fully cooked.  Add sauce and cook until the sauce has thickened.    turn to low and simmer for an additional 10 minutes.   Cook rice and steam broccoli.  You can add the broccoli to the sauce or you can serve it on the side.  Place beef on top of the rice and enjoy!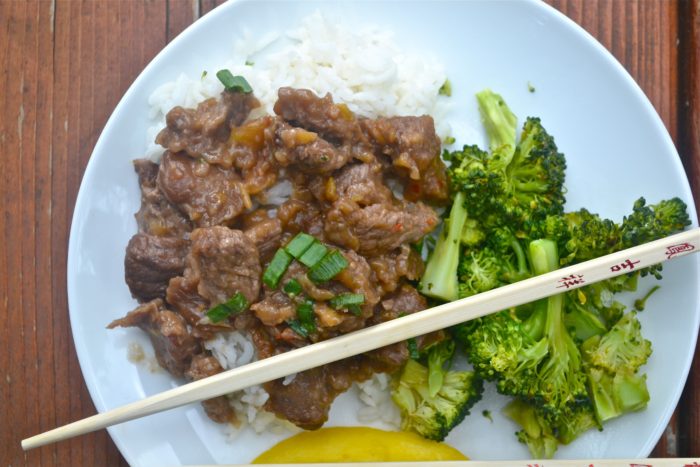 I purchased more beef for dinners this week.  I am thinking that I am going to make this again soon.