I know what you're thinking. Does this girl eat anything other than frozen banana concoctions?
I was actually telling a friend the other day how I have been eating banana based ice cream ALL the time!  ( which actually has helped me cut down on empty snacking)
Her response: " Well, I bet you don't have to worry about getting Charlie Horses in the middle of the night!".  LOL  I had to laugh at myself just a little bit.
Before I go on.  I should list the other " Frozen banana based" desserts I have blogged about Banana-Vanilla Milkshake Banana-Mango Soft Serve  Green Monster- Fro-Y0  Healthy Coffee Frappe  and now this.
I was going to wait a little bit before posting Another frozen banana dessert.  When I realized that summer is almost over. AND soon everyone will want Back to school recipes.
Cherry chocolate Chip Soft Serve ( Serves 2-4) 
Ingredients
1 1/2 cups of Frozen Bananas
3/4 cups of Frozen Cherries
1/4 cup of chocolate chips
2 teaspoons of unsweetened cocoa powder
1/2 cup of coconut milk
1 teaspoon vanilla extract
Blend together in a blender until you get the consistency of soft serve.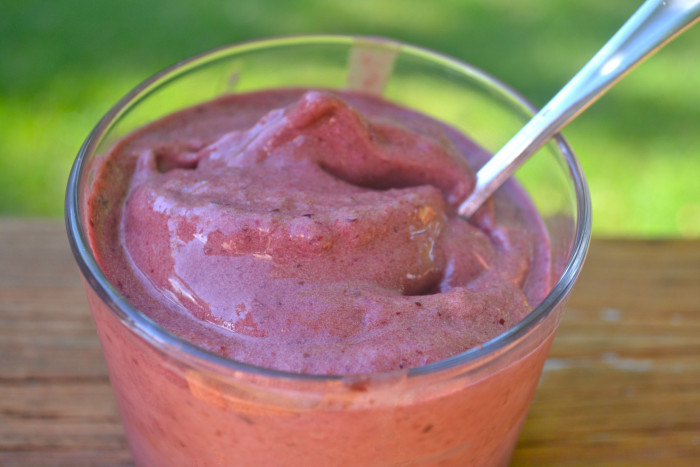 This was SOOOO rich and delicious! It was so rich and flavorful, that A little bit went a LONG way!
 One thing to note.  The cover photo of this blog post states " no added sugars".  So I usually would use super dark chocolate chips.  I could not find any.  So the only added sugars in this are the sugars contained in the chocolate chips.  I feel that the chocolate chips can easily be omitted from this soft serve.
Als0, I used coconut milk.  I just happened to have it in the fridge.  I am a every type of milk kinda gal.  Cows milk, almond milk, coconut milk.  I drink it all.  This has coconut milk, but I do believe that ANY type of milk would be tasty